In Congress, Dingell Has Outlasted Them All
By Tamara Lytle, June 7, 2013 06:08 AM
Holding any job for 57 years is impressive. But it's especially remarkable when every two years your bosses are asked whether they want to fire you.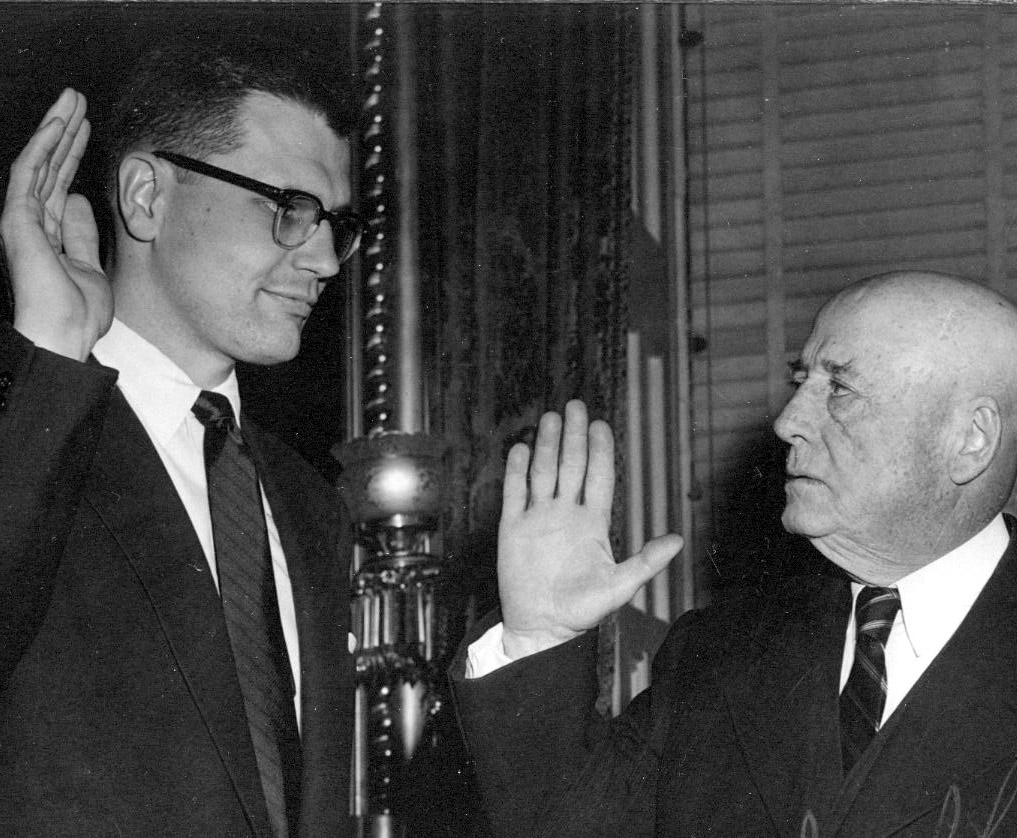 Rep. John D. Dingell Jr. (D-Mich.) now owns the record for holding a seat in Congress longer than anyone else - 57 years, 5 months and 26 days. As the Washington Post's Paul Kane writes:

"That eclipses the late Robert C. Byrd (D-W. Va.), who served in both the House and Senate.
"Elected in 1955 - the year Rosa Parks refused to sit in the back of a bus, when a stamp cost three cents and the Brooklyn Dodgers won the World Series - Dingell has become synonymous with the House of Representatives in the way that Byrd became synonymous with the Senate after more than 50 years in the so-called upper chamber."
To steal a joke from Stephen Colbert of Comedy Central, Dingell has been in Congress longer than Hawaii or Alaska.

Fifty-seven years of dashing up the Capitol's marble stairs, late night vote-a-thons and early morning meet-and-greets on the campaign trail is a lot of energy. And in Dingell's case a lot of Energy. Dingell, 86, chaired the Energy and Commerce Committee, building a reputation as powerful and sometimes cranky during nearly 30 years as the top Democrat there.

So maybe he wouldn't mind a cranky response to his new record from Bloomberg's Jeffrey Goldberg, who called him the Queen Elizabeth of Congress:

"Like the queen, Dingell essentially inherited his job from his father. John D. Dingell Sr. served in Congress from 1933 until his death in 1955."
"Unlike the queen, who is the symbolic leader of a constitutional monarchy, Dingell has wielded real power for many decades. And unlike Queen Elizabeth - who this week is celebrating her 60th year on the throne - Dingell is a member of an elected legislature that requires new blood and fresh ideas to stay relevant and vital."
The New York Times' Ashley Parker asked Dingell about succeeding his father:

"He made his first appearance on the House floor at the age of 6, when his father was elected in 1933; he went on to become a Congressional page; and after his father died in 1955 he successfully ran for his seat at the age of 29. "
" 'I gave Dad about a week to get comfortable and then I went and ran,' he said, sitting in his office in the Rayburn Building this week as he reflected on a career and role in major battles over health care, civil rights and energy policy to name but a few. 'It turned out to be a great thing. I've loved the job.' "


Also of Interest

Join AARP: Savings, resources and news for your well-being


See the AARP home page for deals, savings tips, trivia and more