Ese salmón que te comes podrí­a no ser tan milagroso
By Zulay Ortiz , March 19, 2014 02:15 PM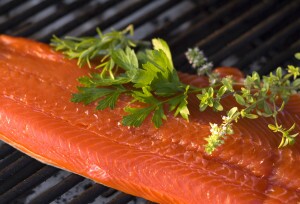 Tampoco los suplementos de omega-3 y el aguacate, el aceite de oliva y esas almendras que con tanto esmero tratas de añadir a tu dieta cada dí­a. La noticia es controversial y no es para menos, pone en duda lo que expertos y organizaciones de gran credibilidad, como la Asociación Americana del Corazón (en inglés), han venido recomendado por años: consumir más ácidos grasos poliinsaturados y evitar las grasas saturadas para mantener un corazón sano.
Pero; ¿quién pone en duda esto ahora? Los resultados de un estudio realizado por la Annals of Internal Medicine (en inglés) revelan que no hay suficiente evidencia para afirmar que un alto consumo de ácido grasos poliinsaturados y un bajo consumo de grasas saturadas evita las enfermedades coronarias. Según el estudio las personas que estuvieron expuestas a una dieta alta en grasas saturadas presentaron un riesgo de padecer de alguna enfermedad del corazón de 1.02, para los que siguieron una dieta rica en grasas monoinsaturadas el riesgo fue de 0.99. Para los que consumieron más ácidos grasos poliinsaturados de la familia de los omega-3 el riesgo fue de 0.93 y para los que ingirieron más de la familia de los omega-6 el riesgo fue de 1.01. Los números hablan por sí­ solos, las diferencias entre ellos son mí­nimas.
"Mi opinión es que no es de las grasas saturadas de lo que debemos preocuparnos", dijo al The New York Times (en inglés) el doctor Rajiv Chowdhury, autor principal del estudio y epidemiólogo cardiovascular de la Universidad de Cambridge.
¡Qué no cunda el pánico! A pesar de que estos resultados revolucionan un poco el mundo de la nutrición no deberí­as hacer ningún cambio radical en tu dieta, esta es la sugerencia de muchos expertos en este momento. Esto no deberí­a ser una "luz verde" para salir corriendo al " fast food" más cercano. Otros estudios se sumarán y arrojarán más claridad sobre el tema. La Dra. Linda Van Horn, profesora de medicina preventiva en la Universidad Northwestern y miembro del comité de nutrición de la Asociación Americana del Corazón (en inglés), dijo a la revista Time (en inglés) que este seguramente será un tema a tratar en la próxima reunión del comité, a la vez que admitió que los resultados plantean preguntas válidas que merecen ser analizadas. Así­ que oiremos más del tema en los próximos meses.
¿Qué tipo de dietas llevas tú? ¿Piensas ser menos estricto contigo mismo a raí­z de este estudio o simplemente estas cosas no te impactan? Cuéntame en el área de comentarios.
Foto de Funwithfood ví­a iStock