Dangerous Caregivers: Few Agencies Screen Workers
By Candy Sagon, July 11, 2012 08:00 AM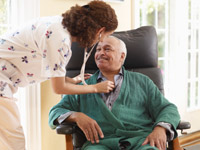 The person you hire from an agency to take care of your ailing, aging family member -- shouldn't that caregiver have passed a federal background check? Or drug testing? Or be screened for skills and training?

Unfortunately, the chances are the agency did none of those things.

A troubling new national study finds that nearly half of the agencies that send caregivers to help vulnerable seniors do a poor job of recruiting, screening, testing and training the caregivers they hire.

The study, led by Lee Lindquist, M.D., of Northwestern University Feinberg School of Medicine, finds that many agencies recruit random strangers off Craigslist and place them in the homes of elderly people with dementia, don't do national criminal background checks or drug testing, lie about testing the qualifications of caregivers, and don't require any experience or provide real training.

"Some of the paid caregivers are so unqualified it's scary and really puts the senior at risk," said Lindquist, a geriatrician.

Although there are good agencies, "there are plenty of bad ones and consumers need to be aware that they may not be getting the safe, qualified caregiver they expect," Lindquist added.

The findings will be published in the July 13 issue of the Journal of American Geriatrics Society.

In the study, Northwestern researchers posing as consumers surveyed 180 agencies around the country. They found:

* Only 55 percent of the agencies did a federal background check. Many agencies don't check workers for a past criminal record.

* Only one-third of agencies interviewed said they did drug testing. That means paid caregivers who are illicit drug users could easily use or steal a senior's pain medications to use or sell for their own habit.

* Only one in three agencies test a caregiver's skills or do a home visit to check on caregivers' performance.

If you are hiring a paid caregiver through an agency, Lindquist advises asking the agency these 10 questions:


1. How do you recruit caregivers, and what are your hiring requirements?

2. What types of screenings are performed on caregivers before you hire them? A federal or state criminal background check? Drug screening? Other? (Be aware that several agencies made up fake names for so-called screening tests they said they did.)


3. Are caregivers certified in CPR or do they have any health-related training?

4. Are the caregivers insured and bonded through your agency?

5. What competencies are expected of the caregiver? (These could include lifting and transfers, homemaking skills and personal care skills such as bathing, dressing, toileting and training in behavioral management.)


6. How does the agency assess what the caregiver is capable of doing? (Make sure the agency is not just relying on the caregiver's word that they have certain skills.)


7. What is the policy on providing a substitute caregiver if a regular caregiver cannot provide the contracted services?

8. If there is dissatisfaction with a particular caregiver, will a substitute be provided?

9. Does the agency provide a supervisor to evaluate the quality of home care on a regular basis? How frequently?

10. Does supervision occur over the telephone, through progress reports or in-person at the home of the older adult?

Photo credit: Getty Images