Nuts Are Good for Us. So Why Aren't We Eating More of Them?
By Candy Sagon, December 29, 2014 09:00 AM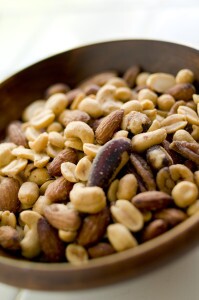 Nuts, if you eat them in moderation, are full of healthy nutrients for your heart and may even help you ward off other diseases like cancer. So why do only 4 in 10 of Americans eat them on any given day — and a measly 1 in 10 eat them daily?

Back in 2010, new federal nutrition guidelines recommended eating nuts as an additional source of protein and nutrients. The Centers for Disease Control and Prevention (CDC) decided to take a look at how many Americans age 20 and older actually took that advice in 2009 through 2010, the most recent data available.

Here's what the CDC's new report found:

The older you get, the more nuts you eat. Those 60 and older eat the most nuts — about 43 percent compared to 35 percent of those age 20 to 39 — and older women eat more than older men.
Most don't eat the recommended amount. The Food and Drug Administration recommends 1½ ounces of nuts daily for heart health, but only 14 percent of men and 12 percent of women eat that amount each day. And 60 percent don't eat any nuts.
There is some good news. About 80 percent of Americans who do eat nuts eat them plain, meaning not as an ingredient in candy, cookies, cereal or some other mixed product.


Most health experts agree we should add nuts to our daily diet, although with a caveat.

"Nuts do indeed have wonderful health benefits," including important omega-3 fatty acids, says dietitian Rebecca Solomon, director of clinical nutrition at Mount Sinai Beth Israel in New York, who was not part of the study. But she cautions that moderation is key. A 1½-ounce handful of nuts is about 240 calories. "If you add 240 calories' worth of nuts to your daily diet without reducing 240 calories elsewhere, the result would be weight gain."

So promise you won't eat the whole bag at one sitting, OK? Just a small handful each day. And to help you choose which nuts to munch, here are some guidelines:

Best for calorie-counters: The lowest-calorie nuts, at 160 per ounce, are almonds (23 nuts; 6 grams protein, 14 grams fat); cashews (16 to 18 nuts; 5 grams protein, 13 grams fat); and pistachios (49 nuts; 6 grams protein, 13 grams fat). Highest in calories at 200 an ounce — along with lower amounts of protein and higher amounts of fat — are macadamia nuts (10 to 12 nuts; 2 grams protein, 21 grams fat) and pecans (18 to 20 halves; 3 grams protein, 20 grams fat).

Best for your heart: Walnuts. While all nuts contain heart-healthy omega-3 fatty acids, walnuts contain twice as much of these antioxidants as any other kind of nut, a 2011 study found. Many other studies have also linked walnuts with a lower risk of cardiovascular disease, as well as reducing inflammation and lowering LDL cholesterol and triglycerides levels.

Best for weight loss: Almonds. People who snack on 1½ ounces of almonds daily lose more weight and keep it off than those who skip the nutty snack, a City of Hope National Medical Center study found. Almonds' high fiber content also helps keep dieters from feeling hungry as often, which in turn helps prevent weight gain.

>> Get discounts on health services with your AARP Member Advantages.

Best for strong bones: Almonds and cashews. Just an ounce of calcium-rich almonds provides 26 percent of your daily needed amount of the bone-strengthening mineral. A lack of magnesium can also increase the risk of osteoporosis, and while almonds contain magnesium, cashews have even more — 20 percent of the daily magnesium you need for strong bones.

Best for extra protein: Peanuts. Yes, we know, peanuts aren't really a nut. They're a legume. But they get lumped in with nuts, and compared to their nut buddies, they have the most protein — 7 grams per serving. Research has also shown peanuts can help with lowering LDL, the so-called bad cholesterol.

Best for prostate cancer protection: Any nuts — an ounce a day. A 2013 study in JAMA Internal Medicine found that men diagnosed with early-stage prostate cancer who added an ounce of nuts to their daily diet, as well as more olive oil, lowered their risk of developing advanced prostate cancer.

Photo: Keith Tsuji/iStock













Also of Interest:

See the AARP home page for deals, savings tips, trivia and more.