The Takeaway: Are Seniors Too Old For Plastic Surgery?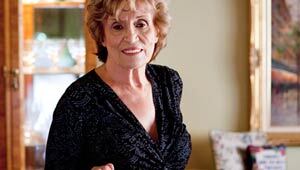 Tuesday I mentioned Marie Kolstad, left, an 83-year-old grandmother who had a breast lift with implants last month. "Physically, I'm in good health, and I just feel like, why not take advantage of it?" she told The New York Times. Yesterday Kolstad elaborated: "It was more about looking in the mirror and liking who I am." She's not the only one who feels that way. Kolstad is just one of thousands of older people who are choosing cosmetic surgery to enhance their looks and their lives: "According to the American Society for Aesthetic Plastic Surgery, in 2010 there were 84,685 surgical procedures among patients age 65 and older. They included 26,635 face-lifts; 24,783 cosmetic eyelid operations; 6,469 liposuctions; 5,874 breast reductions; 3,875 forehead lifts; 3,339 breast lifts and 2,414 breast augmentations."
What do you think? How old is too old for plastic surgery?
More older people and plastic surgery

Alzheimer's harder to spot in people over 80. From WebMD: Researchers examined standard measures of Alzheimer's by age, finding that older elderly people may have more subtle symptoms of the disease than the younger elderly. ... Breast cancer double standard? About 2,000 men are diagnosed with breast cancer every year - a fraction of the number of women who are diagnosed. But the health implications are the same, which is why a South Carolina man's story has caused such outrage: Raymond Johnson was denied Medicaid coverage through a program for breast cancer patients because he's a man.
... Americans are fed up with Washington. Could a possible double-dip recession be part of the problem?
" In the aftermath of the tumultuous debate over raising the debt ceiling, Americans give Washington a strong vote of no confidence, with barely a quarter of those surveyed recently saying the federal government can fix the nation's economic problems and a large majority agreeing that the policymaking process is unstable and ineffective."
See "In the News" for more on current events, entertainment and how it all relates to you.
(Photo: Stephanie Diani/The New York Times)