AARP Stepping Up Commitment to Volunteerism
By Reed Sandridge , October 12, 2011 09:00 AM
This is a guest blog post from Reed Sandridge. Sandridge lost his job in 2009 and did the unthinkable - he started giving away $10 a day to complete strangers! He captured the story of every recipient atwww.yearofgiving.org. A frequent writer and speaker on volunteering and micro-philanthropy, Sandridge lives in our nation's capital.
Late last month, it was announced that AARP and Experience Corps were "joining forces," which has the potential to create a seismic impact on several segments of society, namely adults 55 and older and K-3 school children.
Experience Corps, the organization that served as the model for Ireland's Wizard of Words program I wrote about in my 7th blog post, engages the time, talent and experience of older adults to support schools in improving the reading and literacy skills of children in grades K-3. Through one on one instructional support, 20,000 Experience Corps volunteers help over 2,000 students in 19 cities across the country. It seems that the program has been quite successful. According to an independent study conducted by Washington University in St. Louis, students who work with an Experience Corps tutor for a single school year experience 60 percent greater gains in two critical literacy building blocks - sounding out new words and reading comprehension.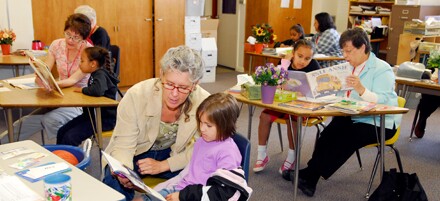 Research by Johns Hopkins Schools of Medicine and Public Health recently conducted studies designed to determine how the work of Experience Corps members affects children and schools, and how participation in Experience Corps affects older adults. They found that children participating in the program scored higher on tests and had less disciplinary incidents. Furthermore the study showed that the Experience Corps members experienced improved overall health, increased activity levels, higher number of calories burned and a significant increase in their social network.
I had the chance to meet Experience Corps CEO Lester Strong recently when he was a speaker on a panel that I moderated. He has vision for growth for the organization and I think joining forces with AARP will give the organization the ability to scale dramatically. In addition to any possible financial investment, the Experience Corps program will now have a pool of roughly 35,000,000 AARP members to draw from for volunteers. Likewise AARP gains an out-of-the-box proven program that provides substantial impact for students, their families and schools, not to mention the benefits listed above for the volunteers.
I am very excited and optimistic about this partnership. Could this be the beginning of a series of investments in volunteer organizations that are engaging older Americans? That would be an interesting strategy especially as baby boomers move toward retirement. With AARP members making up one of the largest volunteer population segments in the U.S., the possibilities of what these two organizations can accomplish by working together are endless. If you would like to learn more about AARP Experience Corps, click here.
Photo credit: Experience Corps
Post 1: Giving During Desperate Times: 142 views
Post 2: Breaking Down the Barriers of Self-Centeredness: 205views
Post 3: Volunteer on Your Next Vacation: 193 views
Post 4: 5 Ways Volunteering Can Help You Decide Where to Give Money: 122 views
Post 5: Changing Trends in Volunteering in America: 117 views
Post 6: Volunteering Overseas: My Recent Adventure to Ireland: 145 views
Post 7: Ireland: The Best Place in the World in Which to Grow Older:
Post 8: Are you a Philanthropist? Maybe
Post 9: AARP Stepping Up Commitment to Volunteerism
Post 10: Cable Companies Helping to Increase Volunteering Rates?
Post 11: A World Without Volunteers