Former NFL Players Give the Gift of Fitness and Fun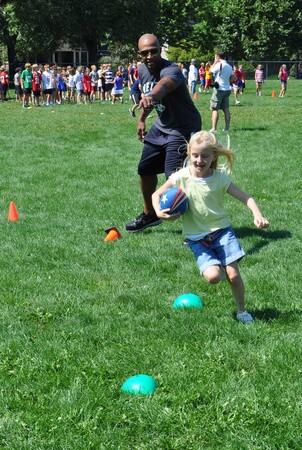 Of all the things that we get to do as former players in giving back to the community, in my opinion, the most fun is giving time to the local community children. Last weekend, the NFLPA former players, as part of the NFLPA One Team One Community initiative, visited Monroe Elementary School in Oak Brook Illinois for a day of fitness, fun, and football. The mission of the One Team One Community initiative is to improve the quality of life of the communities that support our players by encouraging healthy lifestyles, positive choices, teamwork and commitment to service.
I remember days of my elementary school at Heather Hill in Flossmoor Illinois where the gym teacher - to get all the children to pay attention and settle down - would call out the name of arguably the most famous Chicago Bear of all time - Walter Payton. When we heard his name we were conditioned to all stop what we were doing and sit down. Seeing the look in these children's eyes as we entered the gym brought back those memories of wonderment and anticipation. They were not disappointed by the players ( Alfred "Jitter" Fields (Chiefs, Saints), John Janata (Bears, Buccaneers), James Loving (Eagles), Anthony Parker (49ers, Raiders), Tim Tyrrell (Falcons, Rams, Bills, Steelers) and myself (Raiders, Steelers and Redskins) who spoke to them about the benefits of good nutrition, physical fitness and paying attention to their teachers and school work.
The former players also shared personal stories with the children about what it was like for them to play in the NFL, as was asked by one bright little fourth-grader. John Janata, a former Chicago Bears offensive lineman told the kids about his choice of team, choosing the Bears over another team because his childhood hero growing up in Chicago was Dick Butkus. I shared my story of growing up in Chicago and attending games at Soldiers Field as a diehard Bears fan with my father. Then years later, how was special is was being able to bring my father down onto the football field with a press pass so he could watch and take pictures as I took on the Chicago Bears as a Los Angeles Raider - in view of the same seats we had when I was younger.
The former players led the children out onto the field for some drills and some fun. The children ran through obstacle drills, and learned how to pass and catch the football. They also learned how to work together as a team, while competing against each other in obstacle course races. The losing team joined me in some fun push-ups and they got a big kick out of trying to imitate the different variations I performed. To my great delight, I was even challenged by a fifth-grade boy to military push-ups. The future is bright for that young man! The session ended with, prizes, autographs, hugs and high-fives. A beautiful day of volunteerism the former players and children will not soon forget.
Photo credit: District 181