Help Someone Get Food with SNAP
By Jen Martin, May 26, 2011 11:29 AM
Did you know that 65% of eligible people 60+ DO NOT use SNAP (the federal government's Supplemental Nutrition Assistance Program once called food stamps) that helps low-income individuals and families buy food? You can learn more about the program HERE.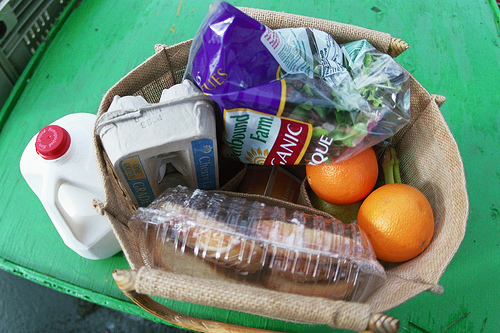 So, why aren't more seniors signing up for SNAP?
The most common reasons include:

(1) They don't know about the program or that they may be eligible,

(2) They're too proud or too embarrassed to ask for help through the traditional social service system, and

(3) They think the application process isn't worth the time it takes for the perceived small benefit they'll receive.

Today's SNAP is nothing like yesterday's food stamp program. Benefits are loaded on to a discreet card that looks like a debit card. The application has been streamlined. And the AARP Foundation has free online tools to help low-income older people get benefits. These tools include eligibility screenings, copies of every state's application for download, and links to each state's agency that administers SNAP. By using this confidential, free online tool, people can see if they are eligible for programs that help cover the costs for groceries, along with medicines, utilities and health care, without ever disclosing their bank account or Social Security number.

In addition, AARP Foundation offers free in-person help at select AARP Tax-Aide sites in Georgia, Michigan, Louisiana, New Mexico, and Idaho.

AARP's Create The Good is also hoping to reach these seniors in need through a SNAP Toolkit you can share with friends and family. In this economy, chances are you know someone who needs help paying for food. We all have ups and downs in life. The good news: There's aid money out there for folks who need it, and with the help of the online tool and the toolkit, you can help them. To find a local retailer near you that excepts SNAP go HERE.

Have you used food stamps? What are the pros and cons of the program? Do you know someone who may be able to benefit from the program?

Photo courtesy of Flickr