Is a Cold Mattress the Key to Better Sleep?
By Candy Sagon , June 19, 2013 07:10 AM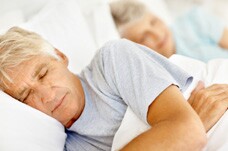 Are you hot in bed? No, no - not that kind of hot. (Although I'm sure you are.) I mean literally hot. Like sweaty, restless and unable to sleep well.
A new survey by the Better Sleep Council found that disagreements about bedroom temperature topped tossing and turning and even snoring for the reasons couples gave for not getting a good night's sleep.
In the survey, taken last year, a majority of American adults (85 percent) said they had problems sleeping at night, with 43 percent bothered by the temperature of the room. A spouse or partner who tosses and turns disrupted the sleep of 40 percent of respondents, while snoring was cited by 32 percent.
Women, in particular, said problems with their sleep environment - too hot, too cold, too noisy - kept them awake at night.
So what's the answer (other than separate bedrooms, which, by the way, is the solution of almost one in 10)? Maybe it's a colder bed.
The sleep industry is promoting a number of new products designed to help us sleep by keeping us cool, reports the Wall Street Journal.
Among the choices: the ChiliPad temperature-controlled mattress pad from Brookstone; a water-cooled Chillow pillow pad to help keep a cool head; a new Sleep Number mattress topper with a dual-temperature layer; and mattress maker Kingsdown's Blu-Tek line of mattresses (with shivery names like Winter, Arctic and Glacier), which features a layer of cooling gel.
Many of these also allow couples to adjust the bed to each of their personal temperature preferences - such as the wife (ahem) who wants a colder room with a heavier blanket, and the husband who wants a warmer room and a lighter blanket.
Plus, the Better Sleep Council offers these other tips to improve your sleep, including getting a larger mattress. Evidently couples who have been sleeping on a double, or full-size, mattress may think they have sufficient room, the council notes, but each person really has only as much sleeping space (widthwise, we assume) as a baby's crib provides.
And should you think sleep quality isn't all that important, check out this new sleep research report from the National Institutes of Health on how better sleep translates into better brain health for older adults.
Photo: creative commons/NIH.gov
Also of Interest

Join AARP: Savings, resources and news for your well-being
See the AARP home page for deals, savings tips, trivia and more