Have You Gotten Your Flu Shot Yet?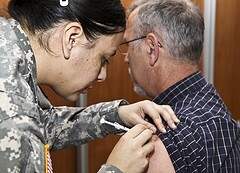 This is a guest post by Annie Lynsen, on loan to AARP from Small Act.

Happy National Influenza Vaccination Awareness Week!

There are lots of ways you can celebrate, but getting your flu shot is probably better than, say, decorating your house with a garland of tiny syringes.

Whether you get the shot from your primary care physician, a drugstore or a grocery store, you'll be taking an important step toward protecting your health. Older adults are particularly vulnerable to serious complications from the disease:

Nearly 90 percent of deaths from the flu occur among people 65 years of age and older.
More than 60 percent of seasonal flu-related hospitalizations in the United States each year occur in people 65 years and older.
The flu shot can be up to 70 percent effective in preventing hospitalizations for influenza in those over 65.
Several vaccine options are available this year. Find where you can get a flu shot.

Photo credit: USACE Europe District on Flickr