Pumpkin Pie on the Plane and Other Holiday Questions
By Candy Sagon , November 16, 2012 08:00 AM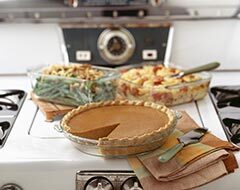 Will airport security let me bring my pie as a carry-on? Can I cook a frozen turkey? Does deep-frying a bird really work? You have holiday questions, we have answers.
What food can I take as a carry-on? According to the Transportation Security Administration's website, these foods are classified as potential threats: cranberry sauce, creamy dips and spreads, gravies, jams, jellies, maple syrup, oils, vinegars, salad dressing, salsa, sauces and soups. The answer to the season's No. 1 one travel question - "Can I take my pie with me on the plane?" - is "probably" (if it's pumpkin and not runny), but it may be subject to additional screening.
Who can answer a last-minute question? Butterball's Turkey Talk-Line advisers handle calls in English and Spanish at 800-Butterball (800-288-8372), weekdays from 8 a.m. to 8 p.m., Central Standard Time; the weekend before Thanksgiving from 8 a.m. to 6 p.m., CST; and Thanksgiving Day from 6 a.m. to 5 p.m., CST. Or try the U.S. Department of Agriculture's (USDA's) Meat and Poultry Hotline at 888-MPHotline (888-674-6854), weekdays from 10 a.m. to 4 p.m., Eastern Standard Time; Thanksgiving Day from 10 a.m. to 2 p.m. EST. Operators are available in English and Spanish. You can also ask questions of "Karen," the Food Safety and Inspection Service's virtual representative, 24/7 at AskKaren.gov.
Help! My turkey's still frozen. Can I cook it? Yes, says the experts at USDA, but only in the oven. A frozen bird cannot be deep-fried, microwaved, grilled or made in a cooking bag. Figure that it will take 50 percent longer to roast than for a fully thawed bird. So, for instance, a 12- to 13-pound frozen bird will take 4 1/2 to 5 hours to cook in a 325-degree oven.
How do you deep-fry a turkey? Carefully - and, please, not on your wood deck, where there's a fire risk. Though deep-frying does yield a delicious turkey in record time, you need the right equipment. Check out this helpful video on how to do it right.
What's the best Thanksgiving cooking tip? Roast the turkey upside down. It'll protect the breast from overcooking, and juices will seep down and keep the bird moist, says food writer and recipe developer Alejandra Ramos, who blogs at AlwaysOrderDessert.com. See her very helpful list of "20 Thanksgiving Cooking Questions Answered in 20 Words or Less" from Reader's Digest, including what to do if your food is ready but the guests haven't arrived.
How about a quick rundown of how to buy, defrost and cook a turkey? From the Washington Post food section, read a Thanksgiving turkey-prep primer. For how to safely cook a turkey, read this holiday column from yours truly.
My guests spilled cranberry sauce on the tablecloth. How do I remove the stain? Start with a mixture of white vinegar and liquid detergent, according to Good Housekeeping. If that doesn't work, sponge with rubbing alcohol, rinse thoroughly, then launder.
It's just the two of us for Thanksgiving. How can I make it special? Check out these terrific recipes that serve two to four (leftovers are always nice, right?) - from thekitchn.com, including rolled turkey breast with sausage-pecan stuffing from Martha Stewart, and roasted corn pudding in acorn squash, from 101 Cookbooks. And try some healthier versions of traditional Turkey Day dishes for a larger crowd.
Photo: Laurie Rubin/Getty Images
: