The Despair That's Killing White, Middle-Aged Americans
By Candy Sagon, November 9, 2015 01:32 PM
En español | For decades, the death rate among all groups of Americans has been steadily declining, thanks to advances in medicine and quality of life. But 15 years ago, that trend suddenly reversed for one group: white Americans ages 45 to 54.

In what a new study termed "an epidemic of despair," two Princeton economists find that suicide, alcoholism and drug abuse are driving up deaths among less-educated, middle-aged, white Americans — some of it due to job loss and financial woes. The number of deaths — an estimated half-million over the past 15 years — is comparable to the number of Americans who have died of AIDS, the authors said.

Read the latest exercise and memory-sharpening tips, health care reform and more! — AARP Health Newsletter »

By contrast, the death rates for middle-aged Hispanics and blacks, as well as those age 65 and over in all racial and ethnic groups, have continued to decline. (The death rate for middle-aged blacks, though declining, is still higher than for middle-aged whites. The death rate for middle-aged Hispanics is well below both groups.)

The trend is also in stark contrast to death rates among adults ages 45 to 54 in other Westernized countries. The chart below compares middle-aged U.S. whites (the thick red line) and middle-aged U.S. Hispanics (thick blue line) to similar age groups in six other countries.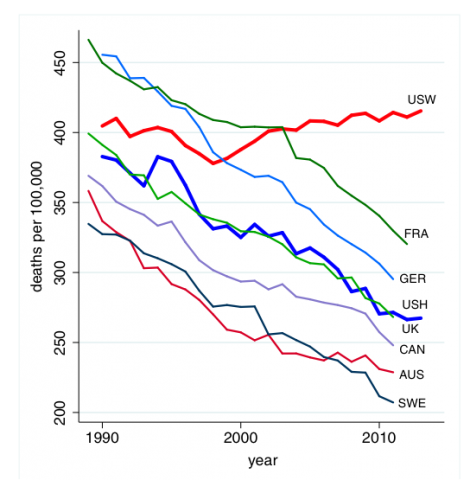 The findings were published in a new paper in the Proceedings of the National Academy of Sciences by Princeton professor of economics Anne Case and her husband, Angus Deaton, the 2015 Nobel laureate in economics and also a Princeton professor of economics and international affairs.

Analyzing data from a variety of surveys and reports, including from the Centers for Disease Control and Prevention, the pair found a sharp increase in deaths among white, middle-aged Americans from 1999 to 2013, but not from the typical killers like heart disease and cancer. Instead, it was from an overlooked epidemic of suicides and poisonings from abuse of alcohol and drugs, including prescription painkillers and heroin.

The biggest increase occurred among those middle-aged white Americans with a high school degree or less. For them, deaths caused by drug and alcohol poisoning rose fourfold; suicides rose by 81 percent; and deaths caused by alcohol-related liver disease and cirrhosis rose by 50 percent, the researchers said. These midlife Americans also reported more uncontrolled pain, such as chronic joint pain, as well as more psychological stress and mental illness.

Part of this may be due to fewer economic opportunities for those with less education, leading to more despair and worse health, and in turn more abuse of alcohol and drugs, Case told CNN.

Get discounts on prescriptions, health exams, eye care and more — AARP Member Advantages »

Her coauthor Deaton described it as a segment of the population who "have really been hammered by the long-term economic malaise. Their wages in real terms have been going down. So they get into middle age having their expectations just not met at all," he told NPR.

In a commentary published along with the study, two Dartmouth economists noted that the inflation-adjusted income for households headed by a high school graduate fell by 19 percent during the years analyzed by Deaton and Case. However, this doesn't completely explain why the surge in deaths occurred only among whites and not blacks or Hispanics, who also faced serious economic problems during the same period, coauthor Ellen Meara told the New York Times.

As for what can be done to improve the situation, Deaton and Case would like tighter restrictions on prescription painkillers, but note that broader social and economic issues are almost certainly involved.

"What is happening is an epidemic of despair, that people on the bottom of the economic heap are being increasingly left out as inequality expands," they said in a statement.

If nothing is done, they added, it could mean that "those currently in midlife will age into Medicare in worse health than the elderly of today."

Photo: Juanmonino/iStock

Graphic: Proceedings of the National Academy of Sciences, Nov. 2, 2015

Also of Interest

See the AARP home page for deals, savings tips, trivia and more.