The Healthiest Fast Food Oatmeals
By Candy Sagon , October 03, 2012 08:00 AM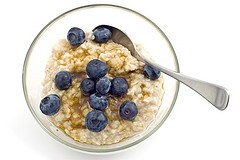 Oatmeal is a hearty, healthy breakfast option, and now you can even find it at your favorite fast-food chain or take-out café.
It's a warm and wise choice for starting the day. Studies show that regularly eating oatmeal, which is low in fat and high in fiber, helps reduce cholesterol and decrease blood pressure, as well as lessen the risk for diabetes - assuming you're not overloading your bowl with sugary toppings, of course.
O-to-go probably got its biggest boost in 2008 when Starbucks decided to offer a portable version of the hot cereal, complete with a choice of toppings. Other chains - including McDonald's, which added oatmeal to the menu in 2010 - quickly followed with their own versions.
Obviously, you can make oatmeal yourself at home, even overnight in a slow cooker, but if you usually stop at a fast-food place for breakfast, oatmeal is typically one of the healthiest options.
EatingWell magazine recently took a look at the healthiest oatmeal choices at common fast-food chains.
The magazine's nutrition editor, Brierly Wright, a registered dietitian, picked selections that came in at under 500 calories, which can easily fit into a healthy diet.
Her favorites:

McDonald's Fruit & Maple Oatmeal, at 290 calories, 9 ounces. Has less fat than anything else on Mickey D's menu.
Starbucks Perfect Oatmeal, at 140 calories plain, 8 ounces. Optional toppings: nuts (100 calories), dried fruit (100 calories), brown sugar (50 calories).
Au Bon Pain Oatmeal, at 170 calories plain, 8 ounces; 260 calories, 12 ounces; 340 calories, 16 ounces. Apple-cinnamon flavor: 20 calories more for each size.
Jamba Juice Steel-Cut Oatmeal, plain with brown sugar, at 220 calories, 12 ounces. Fruit toppings: 70 to 120 more calories.
For you DIY-ers, who make your oatmeal at home, here are some guidelines to keep in mind:
As far as calories and fiber go, instant, old-fashioned and steel-cut oats are all about the same. The difference is how fast they're digested in your gut. Instant oats cook the fastest and also are digested the fastest, sending blood sugar levels higher faster - meaning you get hungrier sooner. Old-fashioned, or rolled, oats are in the middle. They take a little longer to cook but aren't digested quite as quickly as the instant kind, so you feel fuller longer. Steel-cut, or Irish, oats are made by cutting the whole-grain kernel. They take the longest to cook and the longest to digest, so your blood sugar rises slowly: a good thing.
In other health news:
Beta-blocker drugs may not prevent heart attacks and strokes. ABC News reports on new research that suggests that beta-blocker pills don't prevent heart attacks, strokes or cardiac deaths in patients with heart disease. Doctors are torn over whether there's enough evidence in the study to make them want to stop prescribing the drugs. Beta-blockers have been a standard heart medication for decades.
Costco recalls smoked salmon after Dutch salmonella outbreak. Costco has pulled all packages of smoked salmon made by Dutch company Foppen after a salmonella outbreak in the Netherlands sickened hundreds, the Associated Press reports. Costco, which removed the product late Monday and has alerted customers, is the only U.S. company that Foppen supplied with the salmon, according to Foppen officials.
Photo: pretty,strange via flickr