Thaw A Turkey in the Dryer? Try Some Safer Methods
By Candy Sagon , November 21, 2011 08:00 AM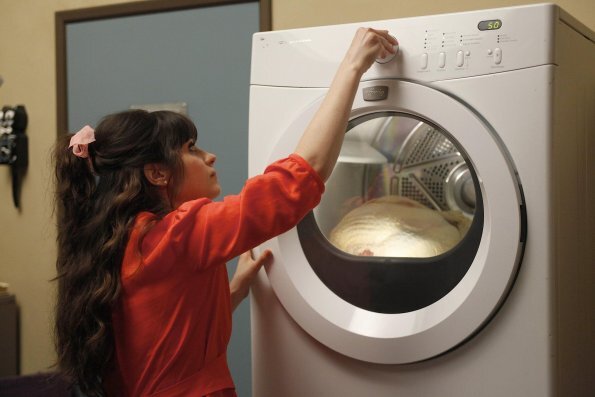 Under the heading "Don't Try This At Home," comes this photo of actress Zooey Deschanel, star of the new Fox TV sitcom "New Girl," trying unsuccessfully to defrost a Thanksgiving turkey in the dryer on a recent episode.
Obviously, her character is meant to be clueless, but thawing that gigantic poultry cannonball in time to cook it for the holiday feast is a common problem -- and a potential source of food-borne illness.
Because most of us only have to thaw that big bird once a year, we may need a refresher on the safest methods to make sure no one gets ill from unsafe bacteria this Thanksgiving.
According to the USDA's food safety guide:

There are three safe ways to thaw food: in the refrigerator, in cold water, and in the microwave oven. A frozen turkey left thawing on the counter (or the back porch or the basement or the car trunk) more than two hours is not at a safe temperature.

USAToday also summed up the government's three safest methods to defrost a frozen bird:
1) In the refrigerator. Plan on 24 hours of thawing for each four to five pounds of turkey. A 12-pounder can take three days, a 20-pound turkey can take five days. Once thawed, the turkey can remain in the refrigerator up to two days before being cooked.
2) In a sink filled with cold water. The turkey needs to be wrapped in its original plastic bag. Change the water frequently to keep it cold; you will need 30 minutes in the water per pound. (A 12-pound bird will take six hours.)
3) In the microwave. Check the manufacturer's directions for thawing a turkey. A microwave-thawed turkey should be cooked immediately.
If you stuff your turkey, you need to cook it immediately after inserting the stuffing.
Cook the turkey to a minimum internal temperature of 165 degrees on a food thermometer. For a stuffed turkey, that means the stuffing must be 165 degrees as well.
Confused? Unsure? Wondering if you really should use the dryer? (Please don't.)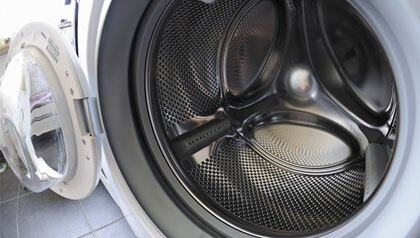 No matter what the question, you can call the USDA toll-free hotline at 1-888-MPHotline (1-888-674-6854).
There's also that other reliable standby, the Butterball Turkey Talk-Line at 1-800BUTTERBALL (1-800-288-8372), open through December. You can also email them at talkline@butterball.com.
Photo credits: spoilertv.co.uk (Zooey Deschanel, top), Sami Sarkis/Getty Images (dryer, above)