Boomers: Save 'Til It Hurts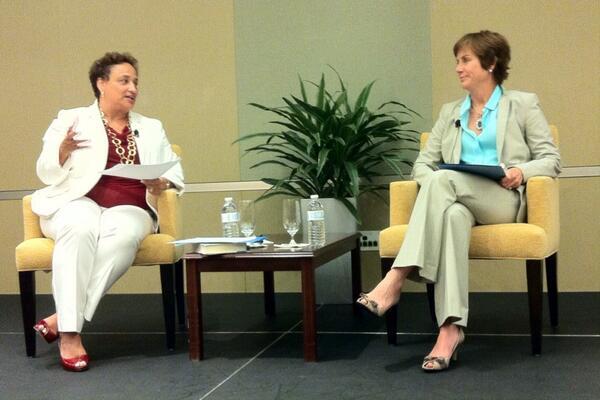 Own Your Tomorrow.
OK, so even though that's the tagline for Charles Schwab's new advertising campaign, the message also rings true for the millions of Americans age 50 and older who need to keep their saving for retirement on track and take their financial future into their own hands.
As part of an Opinion Leader speaker series at the Washington, D.C., headquarters of AARP, incoming CEO Jo Ann Jenkins and Charles Schwab Foundation President Carrie Schwab-Pomerantz discussed the roles that employers, schools and nonprofits can play in providing more education around investing and finances.
>> Sign up for the AARP Money newsletter
"It doesn't matter how much money you have; with some help you can take charge and have a good financial future," said Schwab-Pomerantz, author of The Charles Schwab Guide to Finances After Fifty: Answers to Your Most Important Money Questions . "Saving should be automatic. ... There are a lot of people who could be saving that are not saving."
Schwab-Pomerantz may be right. She cited research showing that about one-third of people age 50 and older have not saved for retirement. One easy step is to take advantage of employer savings plans like a 401(k) and, especially, the company match if your company offers them.
Schwab-Pomerantz also stressed the need for more financial education from trusted sources, such as employers and nonprofits, to help people navigate money issues and become financially resilient.
"There's a lack of financial literacy that cuts across all walks of life," she said. "When it comes to finances, there isn't a lot of trust, and employers and nonprofits are in a perfect position to help people. There is no silver bullet. We have to give people hope, help them take charge and assess where they are, and not let them put their heads in the sand."
A recent study conducted by AARP Foundation and Charles Schwab Foundation revealed that people who participated in a series of financial workshops showed more positive financial behaviors. Since 2012, more than 3,500 people have taken part in AARP Foundation Finances 50+ workshops. The program's curriculum addresses financial topics, debt, bad spending habits and inadequate savings.
>> Get travel discounts with your AARP Member Advantages.
The study showed that within six months of taking the class, the number of people who reduced their spending increased by 22 percent and those who made paying down debt a priority rose by 23 percent. People who took the class were also less likely to take out a payday loan or overdraft an account.
"When people have even just a little amount of assets, they get engaged and motivated," Schwab-Pomerantz said.
If you need more proof that financial education can be beneficial, consider this: A recent study found that  American teens struggled in comparison with youth from other countries on a five-question financial literacy test from the Organization for Economic Co-operation and Development that asked questions on matters such as reading pay stubs and invoices.
Note: Check #SchwabChat on Twitter for more tips from this conversation. AARP's website has free calculators on retirement, Social Security and health care costs.
Photo: Deb Silverberg/AARP
Also of Interest

See the AARP home page for deals, savings tips, trivia and more.