Find St. Patrick's Day Food Bargains
By Jeff Yeager, March 9, 2012 10:16 AM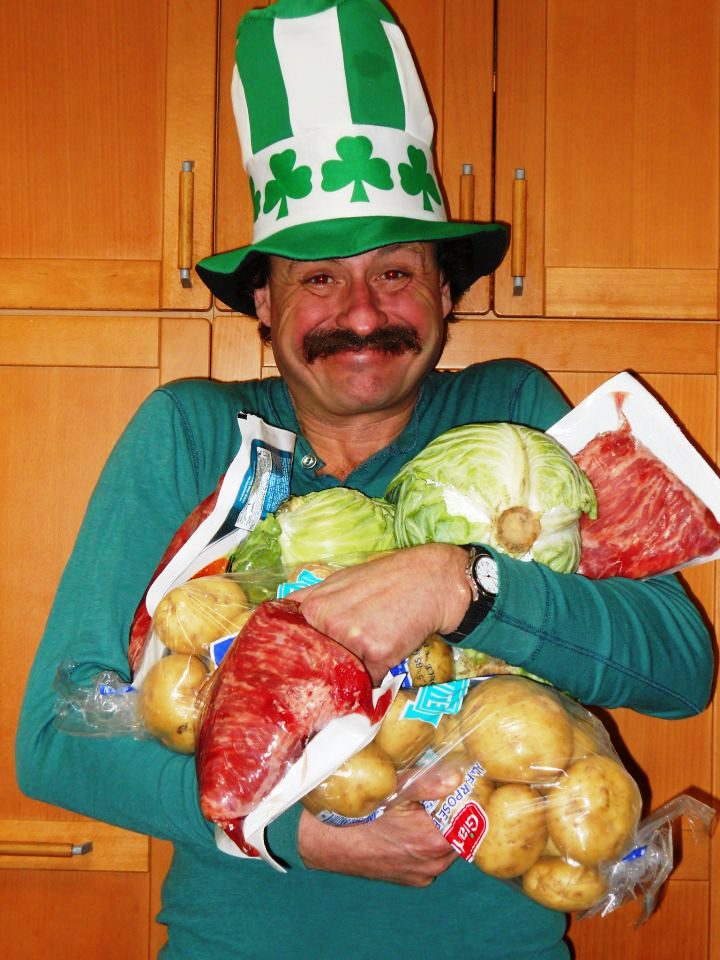 St. Patrick's Day is one of my favorite holidays. It's so much fun, and it's a great time to save money by stocking up on some items that almost always go on sale at supermarkets as "loss leaders." Those are specially priced, highly-advertised sale items designed specifically to get you in the store.

Of course corned beef served with boiled cabbage and potatoes is a classic - and economical - St. Patrick's Day dish, and equally tasty any time of year. But I'll also be stocking up on all three of those ingredients for use in coming months, since between the supermarkets in my immediate area I can always find all three on sale during St. Patrick's Day week. Here's my shopping plan:

Corned Beef: I'm buying three whole corned beef briskets on sale. One I'll serve on St. Patrick's Day with cabbage and potatoes; one I'll bake and slice into homemade lunch meat that I'll keep frozen in smaller portions to thaw as I need it (compared to corned beef from the deli counter, my Inner Miser is doing a leprechaun's happy jig!); and one I'll cut into thirds and freeze for making hash, soups, and these hot corned beef "bunwiches" that were my favorite growing up (the recipe calls for canned corned beef, but freshly baked and shredded is even better).

Potatoes: Would you think I'm crazy -- or maybe "half-baked?" -- if I told you I'll be buying 20 pounds of potatoes (on sale, of course!) and there are only two of us in our household? Sure, my wife and I both love potatoes, but even so, if you store them properly they'll easily keep a couple of months. In fact, I'll bet you a tater (or two) that we'll still be enjoying the potatoes we're buying this week in a tasty potato salad for the potluck we host every Memorial Day. The key is to store potatoes in a cool, well-ventilated, dark place (around 50 degrees Fahrenheit is ideal). And don't wash the potatoes before storing them. If sprouts appear, potatoes can still be used; simply cut away and discard the sprouts before cooking.

Cabbage: I always say "four heads are better than one," which is why I'll be buying four whole heads of cabbage. Plus cabbage is a superstar among inexpensive, healthy vegetables, a nutrient dense member of the Cruciferous family. I've had heads of cabbage stay perfectly fine in the refrigerator crisper (wrapped in plastic) for close to a month; just remove any discolored outer leaves before using. You can also quarter the fresh cabbage and freeze it raw in freezer bags. I love fried cabbage (particularly in a little bacon fat), cabbage soup, and of course coleslaw. Speaking of which, I'll be using one head of cabbage to make this delicious "freezer slaw," which I'll package in smaller plastic containers and will keep in the freezer for many months.

So that's what's on tap at the House O'Cheap, in addition to green beer, of course. And I won't even tell you how much of that I'll be buying.

###
Have you seen Ultimate Cheapskate Jeff Yeager on YouTube in The Cheap Life show? These short, fun video clips can help you save money year-round. One of our favorites is Traveling on the Cheap; watch it here.