Fire and Rain: Beauty and Good Health From the Ashes
By Al Martinez , August 13, 2014 03:55 PM
My wife and I took a nature walk on the southern slope of the Santa Monica Mountains shortly after a brush fire had ravaged the earth and turned the blackened branches of the laurel sumac trees into hands that clawed at the darkening sky. It was a scene right out of Dante's Inferno, tempered by the life that lay on the other side of the hill.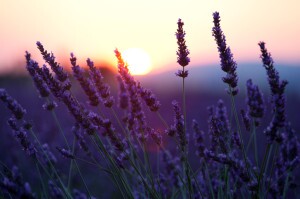 On that "other side," stretched out before us were acres of lavender blossoms belonging to purple phacelia plants, native fire-followers that pushed up through the smoking earth into the misty sunlight. While this day threatened rain, the heat of the morning was enough to call the plants into life, their seeds germinated by the brush fire itself when it swept over the landscape.
>> Slideshow: 10 Beautiful Gardens in America
"The phacelia is a perfect metaphor for life," my wife said, staring in wonder at the faintly glowing spread. "It just never gives up."
Moved by the sea of flowers in the mountains just a short drive from our rural house in Topanga, the moment she arrived home she slipped into a pair of old jeans, a sweat shirt, and a floppy, wide-brimmed sun hat. She picked up gardening tools from the garage and headed for the yard. In so doing she joined an infinite number of senior Americans who use gardening as their favorite elements of exercise, a choice that benefits both heart and lungs.
Health groups point out how much more interesting it is to turn barren plots of ground into areas of natural beauty or into vegetable-producing corners of the yard, than it is to lift weights, mount stationary bicycles, or walk the same routes every day.
Along with a sense of accomplishment and the burning of about 300 calories every gardening session, experts insist that raking, digging, lifting and kneeling exercise muscles you don't utilize in a gym. In addition, chasing gophers and deer away add emotional goals to the game.
>> Get discounts on health services with your AARP Member Advantages.
You don't see the phacelia scene too often, only when elements of fire, sunshine and rain combine in perfect harmony to create a painting in nature that rivals the canvases of the old masters. But I believe that the glory of the phacelias rising from the ashes of disaster made by Mother Nature have much in common with the beauty and bounty of the gardens we ourselves grow, and that is what my wife saw that day of revelation: a perfect metaphor for life.
Health experts are just now catching up with what nature and gardening lovers knew all along. Beauty is good for us.
Photo: rzdeb/iStock
Also of Interest

See the AARP home page for deals, savings tips, trivia and more