George Takei: In Orbit at SXSW
By Jen Reeves, March 12, 2014 04:33 PM
George Takei understands the evolution of his popularity. As Hikaru Sulu in the original Star Trek TV series, he made fans of his own generation and they "raised their kids right" to form the next generation of Trekkies. Now, having made himself something of a social media rock star, Takei reaches all demographics.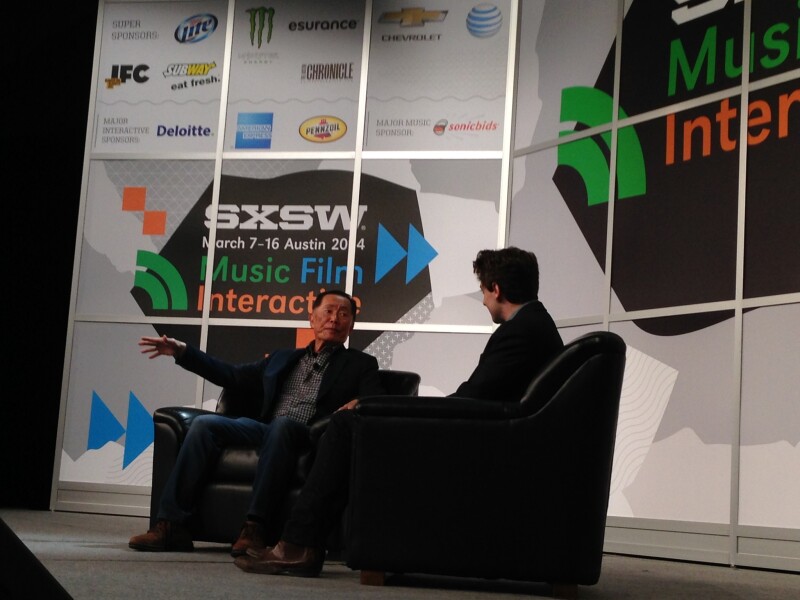 Speaking to a capacity crowd at the South by Southwest festival in Austin, Texas, on March 11, Takei admitted that he took up social media to raise awareness of his musical, Allegiance, which opened in September 2012 in San Diego and is expected hit Broadway within the next year. The show is based on his experience as a child in a Japanese-American internment camp during World War II and the stories of other internees, too. Now the Japanese-American experience is just one of the social missions that the political activist mixes with fun and humor in his plentiful social media posts. His efforts also often cover equal rights for the LGBT community.

>> Sign up for the AARP Leisure Newsletter

Interviewed during the session by Matthew Segal, the co-founder of Our Time, an organization that focuses on issues that matter to the millennial generation, Takei debunked a common misconception that older Americans can't master technology. So many people 50-plus use tech to connect with their communities and family, he said. Of course, some are slow on the uptake, and others, like his sister, fall somewhere in between. She owns an iPhone but is known to leave it at home, so you won't see her staring at the screen as she walks down the street. His Takei's Take series on the AARP YouTube channel (he filmed the second season while in Austin) helps keep people up to speed.

Takei's take on computer analyst Edward Snowden, who had addressed SXSW from Russia a day earlier? He thinks Snowden's leaks of national security information are leading to improvements in technology that will make internet communication more secure.

>> Learn about AARP TEK: Technology Education Knowledge

Takei laid out hopes for his own lasting legacy: more people willing to make sacrifices for the sake of democracy. He's very optimistic.



Also of Interest



See the AARP home page for deals, savings tips, trivia and more



>> Get discounts on electronics with your AARP Member Advantages.