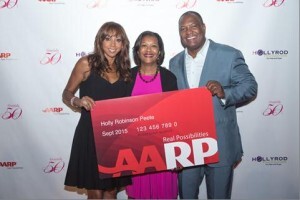 Recently our new AARP CEO Jo Ann Jenkins challenged Americans to "Be Fearless at 50+." What does that mean? I saw the answer in action recently when actress and activist Holly Robinson Peete got an oversized AARP card as she celebrated her 50 th birthday at a star-studded oceanside party in Malibu, Calif.
The event raised money for Holly's charity to support Parkinson's and autism research, two causes that have affected her family and many more across the U.S. Her family was there in full force — mom, brother, loving husband Rodney Peete and their four children.
And members of her extended Hollywood family celebrated alongside — Hollywood heavyweights Magic and Cookie Johnson, the handsome Boris Kodjoe, the silver-tongued Star Jones and many, many more.
Fearless at 50+
Hollywood often shies away from anything that exposes age, perhaps thought of as the Achilles' heel of Hollywood success, but at Holly's 50th party the golden year was celebrated along with the real possibilities that Holly's health, experience and enthusiasm bring with the new decade.
>> AARP - Find Your Real Possibilities and Get to Know Us
The enthusiasm for Holly's entry into her 50s helps shatter the idea that age reduces those possibilities. Recently Julia Louis-Dreyfus and Kevin Spacey shared their Hollywood journeys at our Ideas at 50+ member event in San Diego in September. Their Hollywood success, playing a vice president and a president of the United States, shows that age — and the experience that comes with it — can deliver success in the workplace, whether it's on set or in another setting.
Empowering Decade
Along a pink carpet leading people to the party at the edge of the Pacific Ocean, Holly called 50 an "empowering decade" as she prepared to walk into the party and celebrate what the future might bring. She started in high gear by living a dream and performing with one of her favorite singing groups — En Vogue. The guests cheered her on as she fearlessly belted out the female group's hit 1990 song "Hold On" and continued to sing alongside the En Vogue beauties.
African Americans Hitting 50+
As African Americans, we too must hold on and remain fearless as we enter our 50s and go beyond. Our wisdom, intelligence and opportunities can and should grow with our age. We can do that as we monitor our health, continue to engage and learn, and challenge ourselves to be fearless.
Like Holly says, it is a time to be empowered. AARP is ready to help in many ways, whether you are reimagining your life, embracing new technology, advocating for issues that are important to you, facing caregiving responsibilities or finding new ways to explore the world around you.
Stay engaged with AARP and remain fearless — a world of real possibilities is awaiting you.
Photo Credit: AARP

Also of Interest

See the AARP home page for deals, savings tips, trivia and more