Is Your Bra Aging You? Here's How to Tell
Stop trying to fit your 32F chest into your old 34B bras! At 50 your body has moved on, and so have your breasts. Even after an in-store professional bra fitter diagnosis, we're skeptical. The truth is that mature breasts vary a lot in shape, fullness, proportions, position and spacing, even though thousands of women may wear the same bra size. Here's how to choose: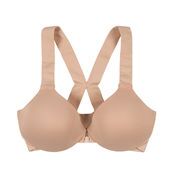 IF YOUR BRA AND BREASTS SAG: The band or cups may be too big. Lots of older breasts are teardrop shaped and fuller at the bottom. Lift them up and off your midriff for a youthful front and side view. A balcony bra provides small to medium chests with a sexy boost. A full-cup foam-lined bra can fill the top of larger breasts for a more rounded shape. Your button-front shirts, blouses and matte jersey dresses will benefit.
IF T-SHIRTS GIVE YOU DOUBLE BOOBS: Your bra cups are too small. Go up a size or more and opt for full-coverage cups. Coverage that encloses your entire breast doesn't mean the cup size is adequate. Be sure your breasts aren't squashed in. Put the bra on by scooping up your breasts (including sides and underneath) and lifting them into the cups. Be sure the underwires don't cut into your breasts or lift up. They should sit on your ribcage directly beneath your breasts, but not too low either. Preformed full bras with molded or foam-lined cups won't show nipples either under T-shirts, light knits or silky tops. Try: Beauty by Bali Women's T-Shirt Underwire Bra B534 ($20.99, target.com).
IF SLEEVELESS DRESSES REVEAL SIDE BOOB BULGES: Your bra band and bra cups are too small. That fleshy bulge near your armpit is usually accompanied by back fat, too. Wider softer bands at the sides and rear, and racer- or T-back styles solve all. Try: Spanx Bra-llelujah Racerback ($62, spanx.com).
IF YOUR CHEST LOOKS OUT OF PROPORTION TO YOUR BODY: Your bra is probably too big in the band, too small in the cups. You're most likely 5-foot-4 or less, have a small rib cage and large chest, or have gained 10 extra pounds or more. A control bra that gently compresses breast tissue and size with seamless contour cups and padded straps is your best get. You want the least bra for maximum support, not a tailored, old-style seamed granny bra. Try: Soma Intimates Stunning Support No Show Minimizer Bra ($56, soma.com).
IF YOUR BRA RIDES UP IN BACK OR MOVES AROUND. You need a smaller band size and larger cup than you think. The band should feel snug and be fastened on the loosest hook. Tighter hooks are there to compensate for stretch and wear as time goes on.
>> Get entertainment and dining discounts with your AARP Member Advantages.
SHOP ONLINE FOR BRAS NOW. Stores carry fewer size options - especially for cups past DD - and you'll easily find brands not available locally. Try True&Co ( trueandco.com), an online bra site that gives you a "fit" quiz (no tape measures!), offers suggestions, and sends you five bras to try (three are your picks, two from them) - and you keep and pay for only those you like. Shipping and returns are free. You won't find every size in every brand. They edit each bra to fit specific profiles.
For more beauty and style tips for women age 50+, read The Wardrobe Wakeup: Your Guide to Looking Fabulous at Any Age, by Lois Joy Johnson ($15.69, amazon.com).
Photo: Spanx Bra-llelujah Racerback Bra from True&Co (trueandco.com)
Also of Interest

See the AARP home page for deals, savings tips, trivia and more