Do This for 15 Minutes. You'll Live Longer
By Candy Sagon , September 02, 2015 09:00 AM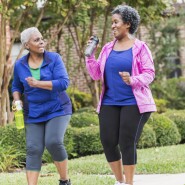 There's no debate that exercise can help us live a longer, healthier life. But let's say you have a chronic health condition that makes exercise difficult. Or maybe you're just very busy. Is there a minimum amount of exercise older adults can do to reap at least some benefits?
If you ask the federal government, as well as numerous other national and international health agencies, the answer is 150 minutes a week of moderate to vigorous exercise — basically 30 minutes a day, five days a week, of an activity such as brisk walking, swimming or bicycling. Getting that much exercise has been linked to a 30 percent drop in the risk of dying early, several studies have found.
12 Foods that are disrupting your sleep »
But some researchers feel that target is too high for adults over age 60 and that federal exercise guidelines should differentiate between middle-aged and older adults. A better idea, they say, is to determine the minimal amount of exercise that could reduce an older adult's risk of premature death and encourage sedentary people to strive for that.
What these scientists found, in a new review of research, was that even 15 minutes a day of moderate exercise can help adults over age 60 live longer.
Granted, 30 minutes is better — the review found that it was linked to 28 percent fewer deaths over 10 years when compared with those who didn't exercise. But even half that time was still tied to 22 percent fewer deaths, particularly from heart disease and stroke, according to David Hupin, M.D., of the department of clinical and exercise physiology at the University Hospital of Saint-Etienne, France.
Read the latest discoveries, exercise and memory-sharpening tips, health care reform and more! — AARP Health Newsletter »
Hupin and his team analyzed data from past studies involving 122,417 men and women between the ages of 60 and 101 in the U.S., Taiwan and Australia. Based on their results, they believe the 150 minutes-a-week goal "might be too high for older adults and may discourage some of them," as they wrote in the Aug. 3 online British Journal of Sports Medicine. They noted that more than 60 percent of older adults don't get any regular exercise.

A more reasonable goal would be 15 minutes a day — a conclusion confirmed by an earlier study in May by Hupin and colleagues involving more than 1,000 subjects, age 65, who were followed for 13 years. In that research as well, those who did a lower level of daily exercise than the recommended amount still had a much lower risk of death than those who were sedentary.
"This message should be relayed by general practitioners, who play a key and essential role in promoting exercise behavior in the elderly," Hupin said. "Even a little is good, and more may be better."
Get discounts on prescriptions, health exams, eye care and more — AARP Member Advantages »
And for those who can't achieve the 15-minute daily goal, trying to consistently move around as much as possible every day will still yield benefits, he added.
Photo: kali9/iStock
Also of Interest

See the AARP home page for deals, savings tips, trivia and more.