Social Security Outlook Improves, but Disability Needs Urgent Action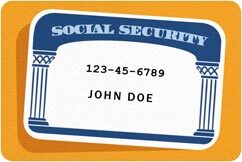 The financial health of Social Security has improved slightly in the past year, with the system expected to exhaust its reserves to pay benefits in 2034, a year later than previously projected, according to the 2015 Social Security Trustees Report, released July 22. At that time, if Congress has taken no action, Social Security will have enough payroll taxes coming in to cover 79 percent of promised benefits for another 56 years, the report said.
The annual report forecasts the 75-year outlook for two funds that pay Social Security benefits, one for retirees and the other for workers with disabilities. The retirement fund has reserves until 2035, according to the latest projections. The fund that pays disability benefits, however, will run out of reserves late next year.
Social Security Calculator: When Should You Claim Your Benefits? »
"Today's report shows that we must seek meaningful — in some instances, even urgent — changes to ensure the program is on stable ground for future generations," said Jo Ann Jenkins, CEO of AARP.
At a news conference, Treasury Secretary Jacob J. Lew and Social Security trustees urged Congress to act immediately to shore up the disability fund to prevent a 19 percent cut in benefits. In March alone 11 million Americans received $11 billion in disability benefits, according to an AARP Public Policy Institute report. Nine million were workers with disabilities, and the rest were their spouses and children.
"It is vital that Congress move forward to maintain the integrity of this critical program sooner rather than later," Lew said.
When the disability fund faced similar projected shortfalls in the past, Congress temporarily shifted slightly more of the payroll tax from the retirement fund to the disability fund. President Barack Obama has suggested doing this again for five years, a move that would extend the reserves by 20 years, Carolyn Colvin, acting commissioner of the Social Security Administration, said at the news conference. House Ways and Means Committee Chairman Paul Ryan (R-Wis.) vowed last week there will be no cuts in disability benefits.
Social Security turns 80 next month, and advocates have been urging lawmakers to secure the retirement and disability benefits of generations to come. AARP's Jenkins is calling for an "honest, open, national discussion" about the value of Social Security and its importance to millions. And presidential candidates should be part of that discussion, she added.
Get discounts on insurance and banking services with your AARP Member Advantages. »
"As the campaign season gets underway, we will be urging all presidential candidates to share their plans for the long-term solvency and adequacy of Social Security," Jenkins said.
Also of Interest

See the AARP home page for deals, savings tips, trivia and more.