White House Conference Turns Spotlight on Aging Issues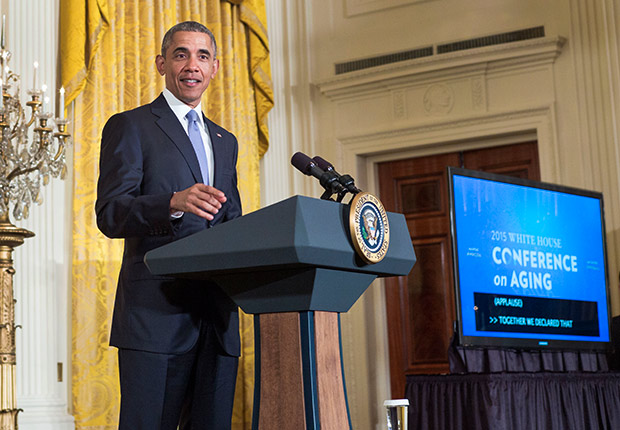 President Barack Obama and a host of experts and advocates for older Americans gathered at the White House July 13 to discuss a variety of issues about aging in America. Government programs such as Medicare, Medicaid and Social Security are great triumphs, Obama told nearly 200 attendees at the White House Conference on Aging, which since 1961 has been held about once a decade to help chart the course of policies on aging. More than 600 "watch parties" were held across the country, allowing thousands more to view the conference online.

"One of the best measures of a country is how it treats its older citizens. And by that measure, the United States has a lot to be proud of," Obama said. Still, he added, "We have to work to do more to ensure that every older American has the resources and the support that they need to thrive."

White House Conference on Aging: How Innovative Solutions Work for All Generations >>

Aiming to help Americans save for retirement, Obama called on the Department of Labor to propose a set of rules by the end of the year to provide a clear path forward for states to create retirement savings programs. Currently, a handful of states have passed laws to create new ways for people without a workplace plan to save for retirement. And more than 20 states are thinking about doing the same.

U.S. cabinet members as well as health, business and financial experts sat on morning panels about caregiving and planning for financial security. A few highlights:

Actor David Hyde Pierce, a longtime spokesman for the Alzheimer's Association, cited the importance of caregivers and the need to identify where they are so that resources can made available to them. "I'm still amazed at the stigma about dementia," he said.
Frank Fernandez, a vice president with Blue Cross and Blue Shield of Minnesota, announced the expansion of the state's dementia-friendly communities program to other cities across the country. The program enables people with memory loss to feel safe in a community with the help of volunteers and businesses and remain independent as long as possible.
Jean Chatzky, journalist and AARP Financial Ambassador, noted that saving for retirement is counterintuitive to most people, yet something that we need to do. She encouraged people to delay taking Social Security if possible and maximize the monthly benefit: "Three-quarters of us take Social Security at age 62. By doing that we leave a ton of money on the table."
Vickie Elisa, of Mothers' Voices Georgia, a nonprofit organization working to improve the health and social status of women and their families, said that longevity among today's older Americans poses a challenge to saving enough. "If orange is the new black, 90 is the new old old," she said. "Baby steps will get you where you need to go. Baby steps are not bad steps."
Get the latest on where we stand — AARP Advocacy Newsletter >>

Earlier this year, five regional forums were held across the country, cosponsored with AARP and planned with the Leadership Council of Aging Organizations (LCAO), a coalition of more than 70 of the nation's leading organizations serving older Americans.

Photo credit: Joshua Roberts/Getty Images for AARP

Also of Interest

See the AARP home page for deals, savings tips, trivia and more.