Aeroponic Gardens for Good!
By AARP Illinois, September 7, 2012 04:48 PM
Happy Friday! Jenn here to tell you about one of our latest community projects that has just come to fruition (literally, haha) - the Aeoroponic roof garden for good!


On Wednesday, July 18, The Salvation Army Crossgenerations Corps Community Center celebrated the Grand Opening of their new Aeroponic Tower Garden. Aeroponics is the process of growing plants in an air or mist environment without the use of soil. AARP and The Salvation Army partnered on the effort to promote healthy food options to local seniors in the Blue Island area. The food grown in the garden will be used for the Senior Lunch Program offered by The Salvation Army Crossgenerations Community Center. Offered free of charge, more than 250 seniors participate in the program each week.

So why did staffer Laurinda Dodgen want to get AARP invovled in this project? In the past few years, we've been searching for ways to "go local" to "go deep" and connect with our members in ways that will be meaningful for them personally. This is about more than just a mailer from AARP; it's about helping people and getting to know them. What better way than to provide a sustainable urban garden that saves on space while providing as much food as 10 acres of land?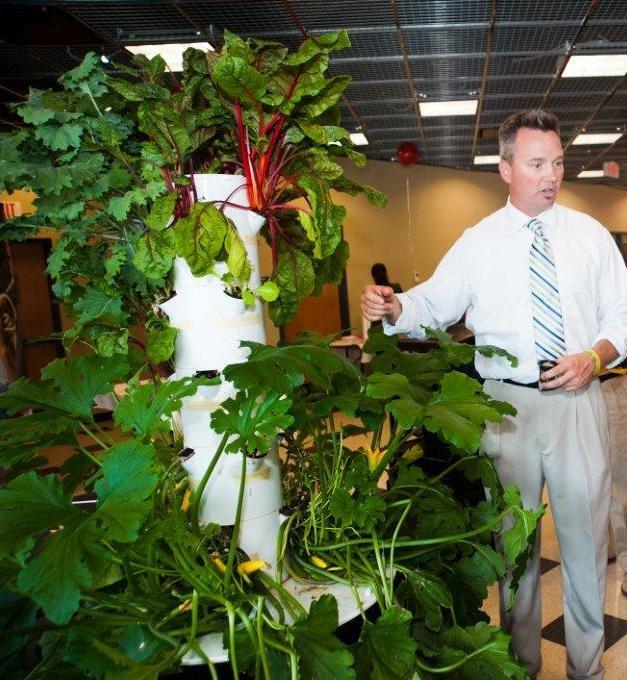 This project has been a two year challenge for Laurinda and the partner groups. They've run into electrical issues, city permits, staff changes and more. Now that the permits have cleared, issues are being fixed and five of the thirty units are up and running. By December things should be in full swing.

So what has the reaction been? "Positive!" says Laurinda. "We're already using food cultivated from those five plants to feed people. There are a lot of volunteers that want to work on the roof, but that will take a lot of training. It's a special process. There are only four Aeroponic Gardens across the US that are community-based and we are one of four. One of the others is the space station (and that's not quite a community garden). To be a part of that is a huge thing. We are at the cutting edge of technology, so to speak. It looks very space-age. It's pretty neat. I'm excited."

Future goals of the program include include plans for Seniors to work with students and young people to explain the growing process.

Special thanks to our intern Allie for doing the research for this article.