Celebrate Good Times...Waukegan!
By AARP Illinois, January 18, 2012 12:16 PM
Hi there blog readers - Jenn from the communications team reporting on some of the AARP activities that are going on in Waukegan, Illinois this month.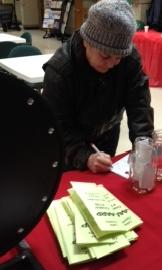 At times AARP can seem like a ginormous organization but did you know that we have offices in all 50 states? Each of those state offices is doing really cool things on a local level. Fom advocacy to community based activities we're there and we hope you'll join us!

This month in Waukegan longtime staffer and Twitter rockstar Terri Worman (seriously tweet her she'll tweet you back) has been working with AARP Lake County Chapter #150 and the Park Place Senior Center to celebrate a couple of milestones. It just so happens that the Senior Center is turning 20 this year - while the AARP Chapter is turning 50. To combine their "birthdays" they've paired up to offer a bunch of fun activities every Wednesday throughout January.

Terri says, "So far we've done interactive bean polling (with real beans) to find out which issues are most important to seniors in 2012. Categories ranged from cuts to Medicare and Social Security to the rising costs of utilities, prescription drugs, and the continuing state budget crisis. Take the online version.

The second week they played "AARP Jeopardy" complete with prizes and giveaways. This week the festivities include heated games of Bunko, and they'll finish out the month with "Family Feud" - AARP style. If you'd like to join in the festivities feel free to come on down to Park Place from 1-3pm on Wednesdays in January.

After this month the AARP Lake County Chapter will resume it's regular meeting schedule on the third Wednesday of each month at the Park Place Senior Center. Check out our locator to find the AARP chapter nearest you.