Virtual Food Drive = Easy way to Help Hungry in Illinois
By AARP Illinois, March 21, 2012 05:18 PM
Blog readers! Jenn here from the communications team reporting on our latest dive into the digital world. We're going to try out a "virtual food drive" and we hope you'll help us a make it a success!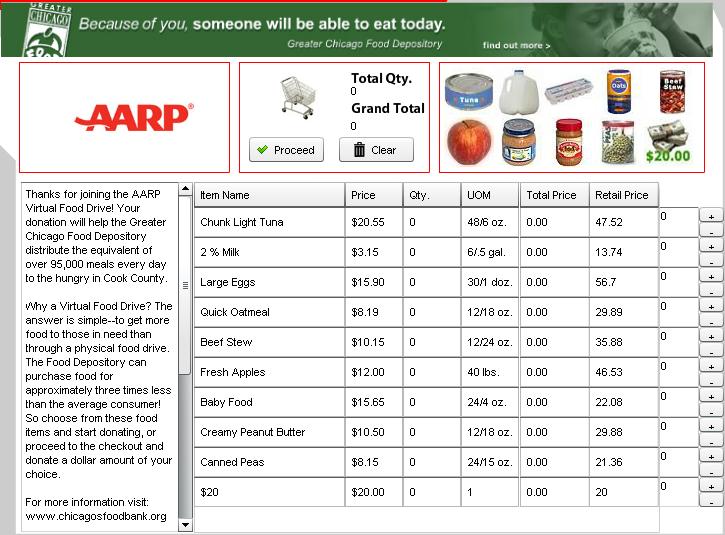 We've teamed up with the Chicago Food Depository and from now until April 9th you, your friends, your kids, your grandkids, your neighbors, and anyone else you can think of can help to end hunger in the Chicago area simply by clicking through our virtual food drive and making a donation. No lugging food items around, no wasted gas on pickup and transport, just sit at your computer, add items to your shopping cart, type your credit card number into the secure portal, and voila! Instant donation - all from the comfort of your own computer!
All donations raised through the Virtual Food Drive will be earmarked to help the Food Depository purchase nutritious, high-quality food for hungry individuals and families in the Chicago area.

Why a Virtual Food Drive? The answer is simple - to get more food to more people in need.

Through the Virtual Food Drive, the Food Depository can purchase food in bulk quantities, at prices well below the market rate. All the items on our food drive have been identified by the Food Depository as ones that are in high demand.

Won't you please join me in helping to provide food for the nearly 142,200 people who rely on the Food Depository each week? Please join us in supporting this effort by clicking here. Please share this post with others and let us know what you think of the virtual food drive concept. Also note that your information will be kept private and two weeks after the drive ends your personal information will be securely disposed of. Happy donating!