AARP Joins Coalition Calling for Lower Drug Prices by Memorial Day
By
Andrew Soergel

, April 26, 2022 03:46 PM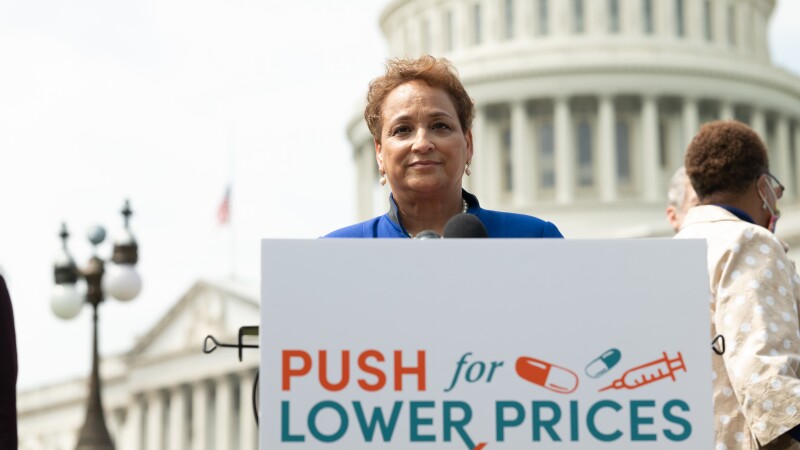 En Español | Standing outside the U.S. Capitol on Tuesday morning, AARP CEO Jo Ann Jenkins sent a message to lawmakers inside: Prescription drugs have become unaffordable for millions of Americans, and Congress must act now to help.

"Every day, AARP hears from older Americans who are forced to choose between paying for medicines they need and paying for food and utilities," she said. "That's just plain wrong."

Jenkins spoke at the launch event for the Push for Lower Rx Prices campaign, an effort in which AARP and more than 70 other organizations are demanding the Senate advance prescription drug measures that the House of Representatives passed late last year. The event also featured David Mitchell, a cancer patient and founder of the Patients for Affordable Drugs Now advocacy group, U.S. Sens. Catherine Cortez Masto of Nevada and Amy Klobuchar of Minnesota, and two women with serious medical conditions who shared their firsthand experience with high drug prices.

"Prescription drug prices in the U.S. are more than 250 percent of those in other industrialized nations. We have the highest costs and prices for drugs in the world," Klobuchar said. "In the next two months, we have to get this done."

Cortez Masto added: "We need to give Medicare more power to negotiate for better rates for patients," an idea that AARP has also supported.

We're also fighting for caps on out-of-pocket prescription costs and penalties on drug companies that raise prices faster than the rate of inflation, among other measures. An estimated 3.5 million Americans age 65 and older struggled to afford the prescriptions they needed in 2019, according to a report published earlier this year by the Department of Health and Human Services.

Joining the Push for Lower Rx Prices campaign is our latest effort to get a comprehensive drug price reform bill over the finish line. We've organized a $4.5 million online and TV advertising and grassroots campaign. And we've delivered petitions to lawmakers in Michigan, Maryland, New York, Arizona, Connecticut and other states, collectively signed by more than 4 million Americans demanding action on drug prices.

Read more about the latest campaign, watch a recording of Tuesday's event, and learn about how we're fighting to lower prescription drug prices.