Cancer Still Top Killer, But Death Rate Is Dropping
By Candy Sagon , January 09, 2014 04:49 PM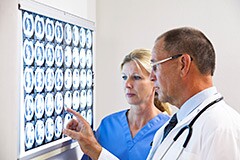 En español I The good news about the cancer death rate over the past 20 years is that it's dropped 20 percent, according to a new report from the American Cancer Society.
The report, published in the American Cancer Society's journal CA: A Cancer Journal for Clinicians, says the decline translates to roughly 1.3 million people who avoided dying from the disease between 1991, when the death rate hit its peak, and 2010. Much of that progress, notes the report, "has been due to advances in prevention, early detection, and treatment."
It's especially good news for middle-aged African American men, whose death rate from cancer dropped by 50 percent, mostly because so many have stopped smoking, the report found. Even so, black men continue to have the highest cancer death rates among all ethnic groups in the U.S., about double that of Asian Americans, who have the lowest rates.
Among Hispanics, cancer death rates were lower than for whites and African Americans, and the number of new cases of cancer dropped the most among Hispanic women.
>> Sign up for the AARP Health Newsletter
But cancer remains the leading cause of death among all adults ages 40 through 79, and the first or second leading cause of death among females of all ages. And while the death rate may have been declining for most groups, for white women 80 or older it has remained the same.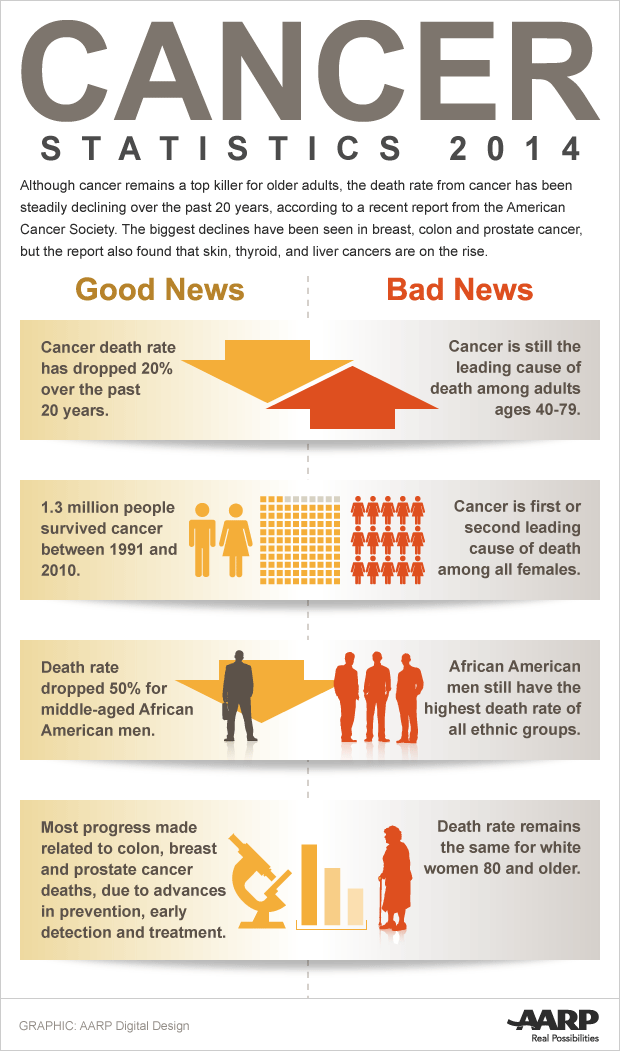 The most progress in slowing down the death rate has been made in colon, breast and prostate cancer deaths, mostly because screening for these cancers can catch tumors early and produce better outcomes, report coauthor Ahmedin Jemal, vice president for surveillance and health services research at the American Cancer Society, told HealthDay News.
But overuse of screening tests remains controversial. While few question getting a colonoscopy, which can prevent cancer by catching precancerous polyps before they can become malignant, there has been more debate over what some critics say is the excess use of mammograms and PSA (prostate-specific antigen) tests.
So does this new report really mean this type of screening is reducing cancer deaths?
John Santa, M.D., medical director of Consumer Reports Health, which has been studying the overuse of tests and screening as part of the national Choosing Wisely initiative, cautions against drawing any conclusions about cause and effect from the report's data.
"It's tricky concluding anything about causality," he says. "For example, stomach cancer has declined dramatically and there's no screening for it. But something has changed in our environment so that stomach cancer is just not occurring as frequently."
While PSA testing remains controversial because it often gives false alarms, Santa says, "mammogram screening works better, especially in those over 50."
>> Get travel discounts with your AARP Member Advantages.
No question that it's great that the cancer death rate is declining, he adds, but it's not only screening that can help prevent more deaths. "We still need to play it safe and do all the healthy things," like eat right, get exercise and quit smoking.
"There are a lot of other things going on in our environment that affect the cancer rate," he says.
Photo: iStock
Also of Interest

See the AARP home page for deals, savings tips, trivia and more