If You're 65, You Have 18 to 20 More Years to Live
By Candy Sagon , October 09, 2014 07:00 AM
Older Americans are living longer than ever, with a life expectancy at age 65 of about 20 more years for women and 18 more years for men, according to a new government report.
Americans' life expectancy from birth also reached a record high in 2012 — 78.8 years, said researchers with the Centers for Disease Control and Prevention (CDC). We can thank a healthier lifestyle — as well as fewer deaths from major diseases including Alzheimer's, heart disease, cancer, stroke and chronic lower respiratory diseases — for the encouraging results.
>> Top 15 Superfoods for People Over 50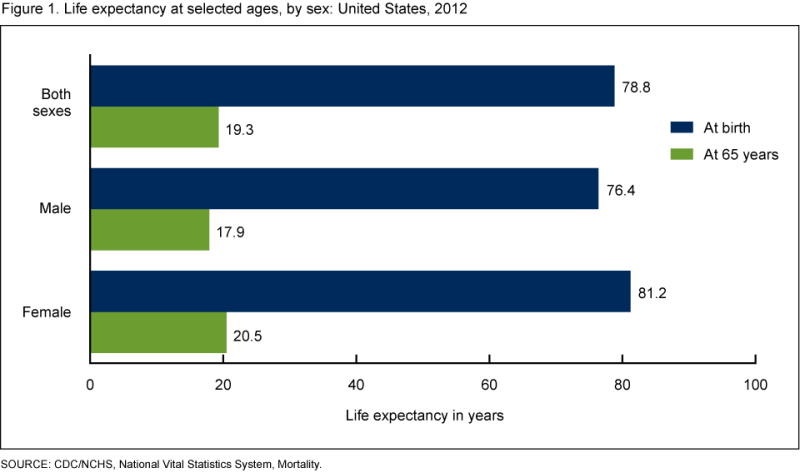 But despite the good news about the lower death rate from disease, the CDC report also included some bad news: The suicide rate reached its highest level in 25 years, a finding that baffles federal officials. "I t's really hard to say why," Robert Anderson, who oversees the CDC branch that issued the report, told the Associated Press.

Plus, there is a persistent gender gap in life expectancy. Females born in 2012 can expect to live to about 81, while males can expect to make it to around 76 — a nearly five-year difference that hasn't changed since 2011. The life expectancy gap between women and men who are age 65 increased only slightly in the same period.
>> Get discounts on health services with your AARP Member Advantages.
Among the other findings in the report:
Death rates declined significantly from 2011 to 2012 for eight of 10 leading causes of death. The rate decreased 1.8 percent for heart disease, 1.5 percent for cancer, 2.4 percent for chronic lower respiratory diseases, 2.6 percent for stroke, 3.6 percent for Alzheimer's disease, 1.9 percent for diabetes, 8.3 percent for flu and pneumonia, and 2.2 percent for kidney disease. The rate for suicide increased 2.4 percent. The rate for unintentional injuries remained the same.
Death rates from 2011 to 2012 for whites and blacks (both men and women) dropped significantly, with the largest decrease among black females. Hispanic death rates stayed about the same, although their numbers are still lower than those for whites and blacks.
The infant mortality rate dropped to a new low of 5.98 per 1,000 births. That's a record low, but the U.S. infant mortality rate continues to be higher than in most European countries.
Photo: Courtesy CDC/NCHS, National Vital Statistics System, Mortality
Also of Interest:

See the AARP home page for deals, savings tips, trivia and more.