Learning Music After Age 50
By Kim Painter, September 10, 2021 10:17 AM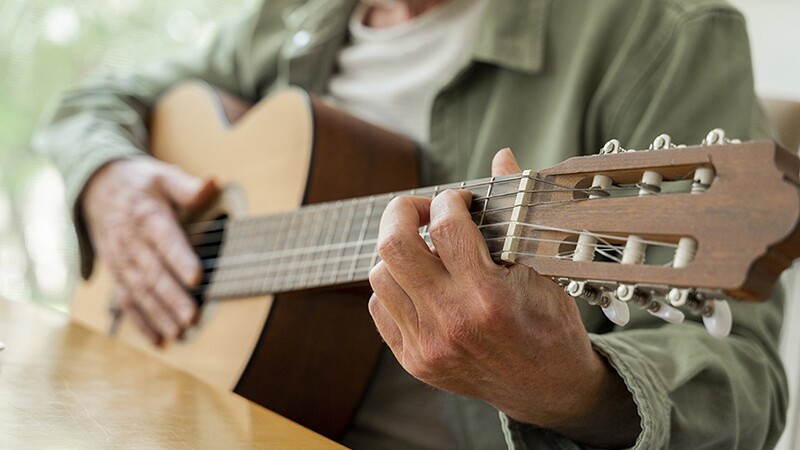 Making music is a good brain-stimulating activity at any age, according to a report on music and the brain from the Global Council on Brain Health (GCBH).

"Engaging in music late in life is not only good for your brain but good for your social and emotional well-being," says Julene Johnson, associate director of the University of California, San Francisco, Institute for Health & Aging, who was among the experts who wrote the report.

In a study led by Johnson, older adults — many with no musical experience — joined choirs at senior centers. After six months the singers felt less lonely and more engaged in life. Researchers at the University of South Florida found improvements in mental processing speed, verbal fluency and other cognitive measures among adults ages 60 to 85 who took piano lessons over several months.

Music lessons belong on the long list of learning experiences likely to bolster brain health, says neuroscientist and musician Daniel Levitin, another contributor to the GCBH report.

A willingness to try new things, whether it's making music, taking language lessons or tackling new puzzles and books, is a key to healthy aging. Such experiences matter because our brains make new connections throughout life, Levitin says.

Levitin's grandmother learned to play an electronic keyboard at age 80 and played every day until she was 96. "She didn't become a concert pianist, but that doesn't matter," he says.

Solo lessons and practice are beneficial, but playing or singing in time with a group is an especially rich experience. Community choirs also are widespread and especially accessible, since you don't need to rent or buy an instrument.


Learn more on AARP® Staying Sharp®
This content is provided for informational purposes only and is not intended to provide any expert, professional or specialty advice or recommendations. Readers are urged to consult with their medical providers for all questions.