Diversity Within: Conference Session Illuminates Asian American and Pacific Islander Study
By Kim Sedmak, March 29, 2018 10:05 AM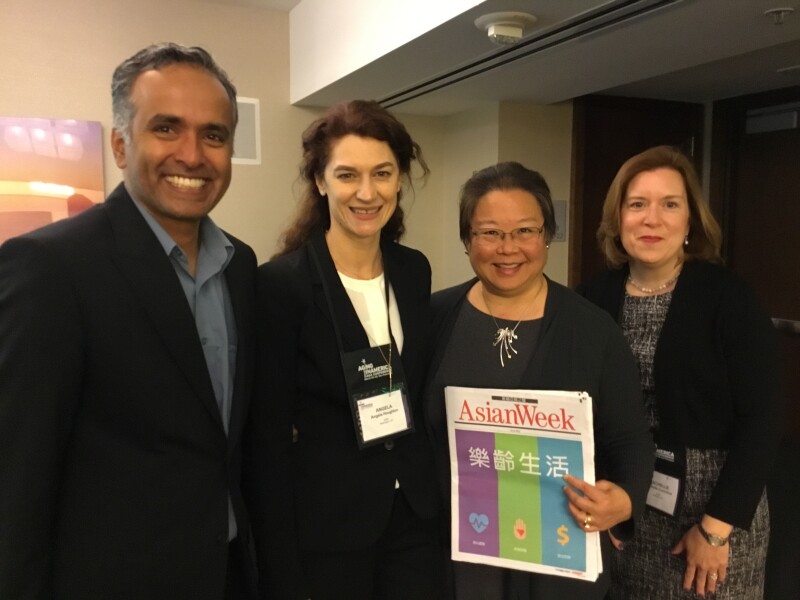 The city of San Francisco, the setting for the American Society on Aging's (ASA) Aging in America Conference, is all about diversity. More than a third (34%) of the total population in San Francisco is Asian/Pacific Islander (according to the Census Bureau's American Community Survey), and even within that community, diversity is the key word. In fact, diversity within the Asian community is true across America as well. The ASA conference presented a rich opportunity to share recent findings from the National Asian American Survey, one of the first of its kind.

Daphne Kwok, AARP's Vice President, Multi-Cultural Leadership, emphasized, "Without data, we cannot advance or make the case for anything concerning 50+ Asian Americans and Pacific Islanders. It's all about the data, if we are to make substantive change."

The survey, conducted just after the 2016 U.S. presidential election, measured a myriad of indicators specifically related to political views held by age 50+ Asian American Pacific Islander (AAPI) individuals and their families.

Rachelle Cummins, an AARP Research Director moderating the session put forth that "AARP wants to better understand the opinions of Asian Americans so we can become more involved in representing them."

According to Angela Houghton, AARP's Senior Research Advisor for Multicultural Research, four areas of concern resonated across all AAPI generations surveyed: cost of medical care, savings for retirement, paying for a college education and caring for older family members.

"These four issues are the ones that repeatedly rose to the top when AAPIs were asked what are the most serious problems facing your family," said Houghton.

For the research, AARP partnered with Dr. Karthick Ramakrishnan, Associate Dean for the University of California's Riverside School of Public Policy, who explained that the telephone survey was conducted with nearly 4,400 participants, of which approximately 2,500 were 50+.

Noted Ramakrishnan, "Survey participants primarily represent the big six Asian ethnicities — Chinese, Japanese, Korean, Filipino, Asian Indian and Vietnamese – and also includes Bangladeshi, Pakistani, Cambodian and Hmong respondents."

Understanding the Asian population in the United States going forward remains a challenge as much as ever, as diversity within the U.S. AAPI population is evolving. From 2000 to 2014, the share of all Asian Americans originating from countries in the South Asian sub-region rose from 19 percent to 26 percent. This growing sub-regional representation brings cultural traits and language access needs that are different from East Asians or Southeast Asians in the U.S.

The 2016 survey revealed some levels of discrimination at work—more so than unfair treatment by law enforcement. Houghton shared, "In total, 28 percent of Asian Americans age 50 and older reported having experienced any type unfair treatment, and 22 percent in a work-related circumstance. Of them, 61 percent felt it was because of their race or ethnicity and 18 percent mentioned age as the reason."

The real uphill battle according to Kwok is making sure AAPI individuals understand they have a voice and use it. "It's hard to get across the idea of why civic engagement is important to their own futures," she said. "The concept of voting is foreign to them."

In spite of such challenges, an increase in AAPI individuals running for local school boards, town councils, state assemblies, governorships, and U.S. Congress are huge catalysts in increasing overall involvement in the political process. Most of the activity is in states located in the West, such as Washington, California, and Oregon.

According to Kwok, there are 5.8 million AAPI individuals age 50+ nationwide and 80 percent are eligible to vote. In more than 100 congressional districts, AAPIs represent 5 percent or more of the 50+ population. "That's enough to swing an election," she said, "and AARP is planning on educating them on the issues leading up to the mid-term elections that most affect them."



This blog is part of a daily online report from ASA, where AARP's policy and research experts and thought leaders are sharing fresh perspectives and insights, identifying innovative trends, and providing cutting-edge data, research and commentary. Read more here .