Employees want help from their employers to save for a rainy day
As the saying goes, you can't predict the future, but you can plan for it. When it comes to preparing for life's inevitable surprises–a flat tire, a sick pet, or a pay cut—modest savings of a few thousand dollars or even a few hundred can mean the difference between a minor setback and a major crisis.

Yet far too many people are not prepared for a rainy day. According to the Federal Reserve, four in ten U.S. households could not come up with $400 in a financial emergency. This lack of liquid savings puts both their short-term and long-term financial security at risk. Without emergency savings, many people have no alternative but to use high-cost products like payday loans that could trap them in a cycle of debt. Others may pay hefty penalties and taxes to tap into their retirement savings early, undermining their future financial stability.

While there's no single solution to help people be better financially prepared for the unexpected, employers could play an important role. That's a key takeaway from a new nationally representative survey from the AARP Public Policy Institute, which found that 71% of U.S. adults would participate in a payroll-deduction rainy day savings program if their employer offered one.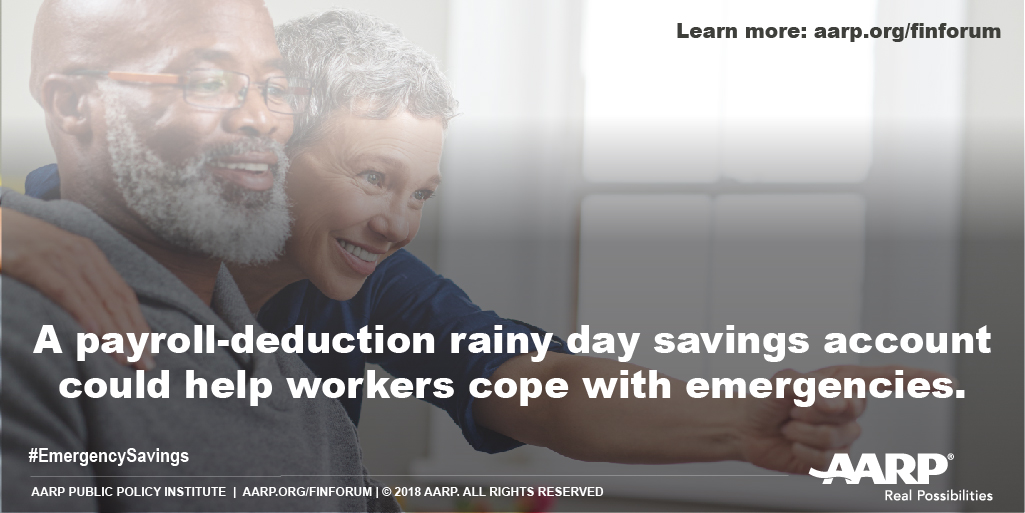 Relatively Simple Solution

Here's how an employer-based rainy day savings program could work: just as with many 401(k) retirement savings programs, employees would be automatically enrolled, but could choose to not participate. Every pay period a small portion of an employee's pay would be directed to a savings account held in the individual's name at an insured bank or other financial institution. Unlike most retirement plans, however, employees could access the funds in their account for any reason without penalty. They'd also have complete control over the account and could change their contribution amount or stop contributing at any time.

Survey respondents told AARP that the payroll-deduction emergency savings program would make it easier to save because they'd be making regular, automatic contributions to their savings account. They also said they'd be less stressed about paying for unexpected expenses.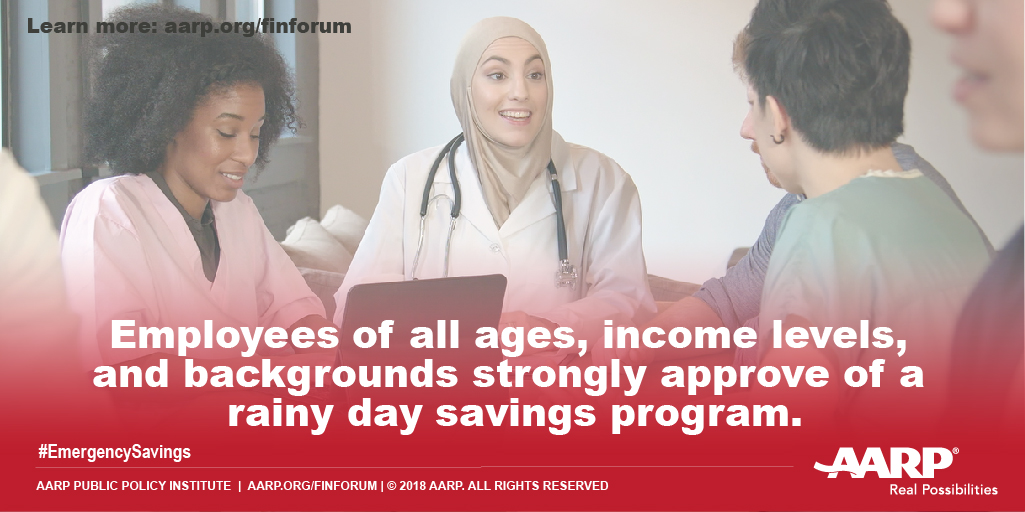 Interestingly, the payroll-deduction emergency savings program got high marks from employees of all different ages, incomes, and financial circumstances. Holding other factors constant, anxiety about finances and uncertainty about their ability to cope with financial emergencies were among the strongest drivers of the program's appeal.

AARP also asked employees what features would be most important to them in a payroll-deduction emergency savings program. Nearly everyone said that an employer match would make them more likely to participate—even those who had little interest in such an account initially. In addition, features that deliver convenience, control and privacy topped the list.

Benefits for Employees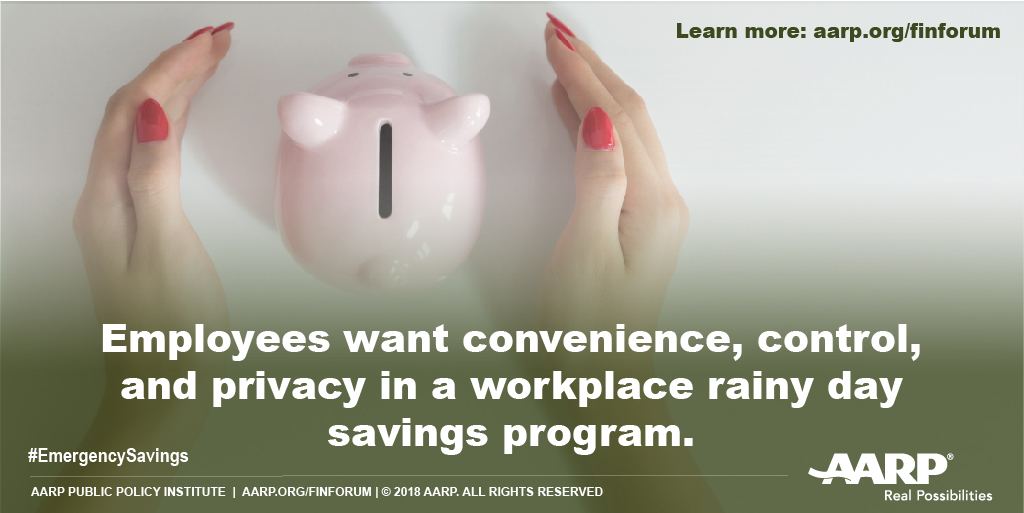 The AARP Public Policy Institute survey shows that employees think an automatic enrollment payroll-deduction savings program is a promising solution to a pressing challenge that confronts many workers.

As employers look for ways to offer high-value financial wellness benefits to their employees, it's important to take into account what employees want.

Read the detailed survey findings here.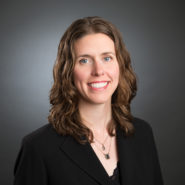 Catherine Harvey is a senior policy advisor at the AARP Public Policy Institute, where she works on public policies and market solutions to help people save for their goals.