Leadership Longevity Awards: AARP's Public Policy Institute Recognized for Ad Council Campaign Featuring Male Caregivers
By Kim Sedmak, March 28, 2018 04:15 PM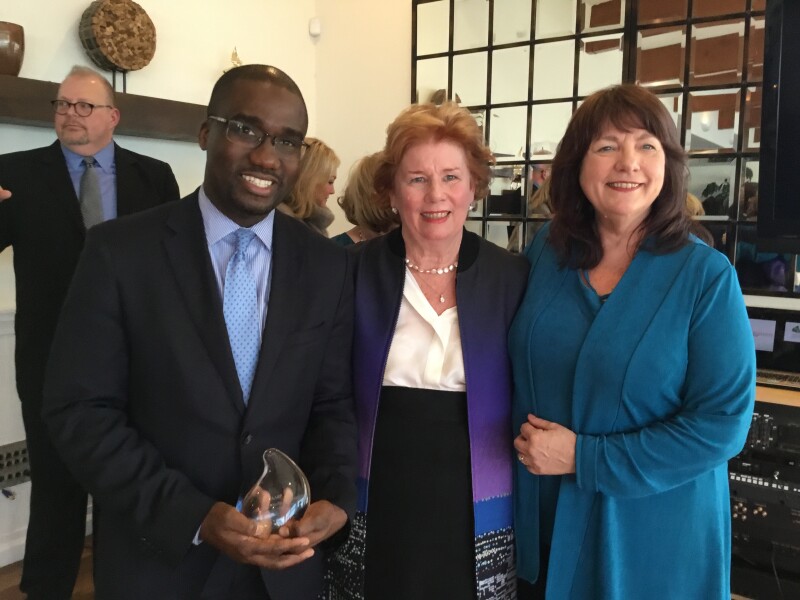 It was a night of celebration from the moment the 15 th Annual Longevity Leadership Awards got underway Wednesday evening at the Golden Gate Yacht Club in San Francisco, where the American Society on Aging's (ASA) annual conference is happening. As this year's six awardees were announced, the Golden Gate Bridge shimmered off the bay in the sunset.

AARP's Public Policy Institute (PPI) took honors in garnering the award for Leadership Media & Innovation for its collaboration withAARP Media and the Ad Council on the PSA Campaign "Breaking Stereotypes: Spotlight on Male Caregivers." The groundbreaking campaign, featuring actor Danny Trejo, shows men as caregivers for aging loved ones.

Accepting the award were Susan Reinhard, AARP Senior Vice President and Director of PPI, and Jean Accius, Vice President for Independent Living/Long Term Services & Supports at PPI.

The annual awards, part of the "What's Next Boomer Business Summit," showcase the nation's outstanding individual and group achievements in serving the powerful longevity economy. The event is held in partnership with ASA's annual Aging in America Conference.

"Over the last 15 years, these awards have acknowledged the vanguard of aging," said Mary Furlong, founder of both the awards and summit. "It's inspirational to see the sea change in aging and how large companies, entrepreneurial start-ups and venture capitalists are focused on the opportunities that this $7 trillion economy offers."

Reinhard reflected, "This award honors the teamwork that AARP brings to major issues like family caregiving. I came here to shape the Public Policy Institute into a "think and do tank" so our research could translate into action. I am very proud that we made our simple data point that 40 percent of caregivers are men come alive by teaming up with our AARP media colleagues and the Ad Council."

According to an AARP report, the longevity economy is composed of 106 million people responsible for at least $7.1 trillion in annual economic activity. This growing population over age 50 is a transformative contingent of active, productive people who are working and living longer—and in the process changing the economy, and life as we know it, in powerful ways.

Accius shared, "Caregiving is not easy for any family member or friend and men are beginning to realize what women have been able to talk about for years—they need help and support. Equally important is that asking for help is not a sign of weakness but of strength."

Other 2018 Leadership in Longevity awardees include Sharon Emek of WAHVE (Work At Home Vintage Experts) and Lori Bitter of The Business of Aging, two intrepid women leading successful businesses they built and created, as well as George Yedinak of Senior Housing News, Tom Riley of Seniorlink, and Brewster Kahle and Mark Graham for The Wayback Machine—whose achievements include building a successful media platform, developing an innovative company that's transforming care management at home, and creating a vast digital library.



This blog is part of a daily online report from ASA, where AARP's policy and research experts and thought leaders are sharing fresh perspectives and insights, identifying innovative trends, and providing cutting-edge data, research and commentary. Read more here .