Medical Credit Cards: A Potential Debt Trap for Older Consumers
By Kyra Brown, November 17, 2023 10:12 AM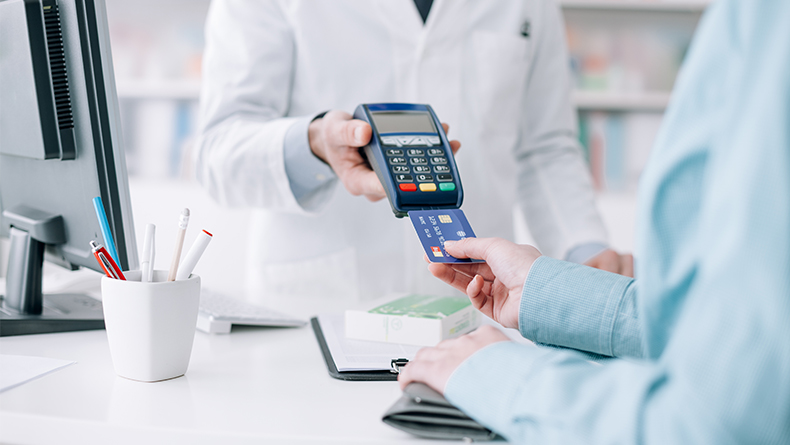 Given the ever-rising cost of health care in the United States, it is unsurprising consumers are searching for ways to pay for their medical bills. Many consumers are turning to medical credit cards, which may offer a convenient payment method, but those same cards also expose them to high-cost debt and financial risk. The Consumer Financial Protection Bureau (CFPB) reports that medical credit card use is on the rise, with the number of cardholders almost tripling in the last decade. This is a concerning trend.

Financial institutions market medical credit cards through health providers, claiming they reduce costs, increase profit, and lower administrative burdens. Such claims make health care providers all the more motivated to push them onto consumers. This is particularly concerning because consumers often evaluate medical payment options amid a pressing health issue—a time when they likely are more vulnerable to poor financial decision making.

Notably, these cards were not originally even intended for widespread use. They were created for elective care procedures or services not covered by traditional insurance, such as vision or audiology services. Yet today people commonly reach for them to cover a range of medical expenses, from primary care to emergency room services, and the result for them could be overly large debt burdens.

Many people need not turn to such payment means. Programs are in place that offer financial assistance to lower-income consumers to meet such out-of-pocket costs. Unfortunately, most eligible consumers are unaware such programs exist. Here's a look at the ins and outs of medical credit cards as well as better alternatives that are available to some consumers.

Carrying a balance can be costly

One problem with medical credit cards is the cost of carrying a balance. High annual percentage rates (APRs) and features such as deferred interest, among other factors, can lead to higher costs for consumers.

Deferred interest may epitomize how consumers can be vulnerable to amassing debt fast with these cards. Under this feature, financial institutions offer a promotional interest-free or reduced-interest rate for a limited time. But if a consumer cannot pay off the card balance, a higher interest rate kicks in that may dwarf even that of a typical credit card—often trapping consumers in spiraling debt. The CFPB found that the average APR of a typical medical credit card is a staggering 27 percent, compared to approximately 16 percent for general-purpose cards. It is not uncommon for lenders to offer one flat APR for all consumers, despite differences in the creditworthiness of applicants.

Older Americans carry more medical debt than before

Older consumers' unpaid medical debt continues to surge, jumping from $44.8 billion in 2019 to $53.8 billion in 2020. Several causes are driving this increase, and some of them are indirect — including inaccurate medical billing and a complicated billing system prone to errors. In their administrative- and cost-savings pitch, financial firms market them as a quicker payment process compared to those of the bureaucratic Medicare, Medicaid, and private insurance, and that message resonates with providers.

Older adults' health needs and insurance situation make them especially good marketing targets. While medical debt carried by those over the age of 65 is lower compared to younger consumers, gaps in Medicare coverage can increase their out-of-pocket health care costs for people without supplemental coverage and, consequently, medical debt. More likely to rely on multiple forms of insurance while also having higher rates of chronic health conditions, they make good credit-card candidates in the eyes of those offering them.

As often is the case, the problem hits some groups harder than others. The Kaiser Family Foundation (KFF) found that in 2022, more women than men (48% of women, 34% of men) and more Black and Latino adults than white adults carried medical debt (58% of Black adults, 50% of Latino adults, 37% of white adults). While this KFF survey data only looks at rates of medical debt across race and not age, other KFF research indicates that about 60% of adults ages 50-64 and 37% of adults 65 and older currently carry or have carried medical debt in the last five years (including any debts accrued from a medical credit card).

A potential solution often gone unused

Alternative tools are available for many people who may feel they need to resort to these credit cards. Most consumers fall into medical debt from a single hospital stay or treatment, with about 72 percent of people with such debt attributing it to acute care services. Designed for eligible low-income consumers, Financial Assistance Programs (FAPs) are a debt-prevention tool specifically for these situations. FAPs are created by hospitals, who offer them as a means of fulfilling certain requirements to maintain their nonprofit, tax-exempt status. Eligibility for financial assistance varies by hospital and is typically determined using income thresholds such as the Federal Poverty Line (FPL). With 49 percent of nongovernmental hospitals operating as nonprofit entities, this FAP requirement impacts almost half of hospitals.

Unfortunately, FAPs have fallen short of realizing their full potential, in part because of a lack of consumer education that may stem from hospitals not building awareness. According to a 2023 CFPB report, not all consumers eligible for this kind of financial assistance receive it, often because they don't receive legally mandated information about their potential eligibility. A 2015 study found that only 44% of nonprofit hospitals reported notifying patients about eligibility for financial assistance before attempting to collect unpaid medical bills. While there is limited data on the pervasiveness of this issue among older Americans, it is likely that lack of information and awareness impact many low-income, uninsured older adults.

Variation in financial assistance access boils down to how states operate their FAPs. The CFPB found that hospital incentives to create successful programs differ across states, with some effectively implementing FAP initiatives and others appearing to do little. The Affordable Care Act (ACA) requires nonprofit hospitals to have a FAP, make it publicly available, and refrain from taking extraordinary debt collection actions before determining FAP eligibility; however, no federal provision currently sets a minimum level of financial assistance hospitals must provide. Therefore, eligibility requirements and available discounts for patients vary drastically across states.

Medical credit card debt demands multifaceted solutions

The drivers of medical credit card use are many, and so must be the solutions, as the resulting debt threatens the financial security of older Americans. Research suggests prohibiting deferred interest, removing medical debt from credit reporting, and strengthening FAP hospital requirements could greatly improve the financial security of older Americans. Limiting the promotion of medical credit cards to consumers who may be eligible for FAP programs as well as fostering greater transparency in how credit card features like deferred interest work can help to educate and protect consumers.

In one area of encouraging news, the CFPB recently began the rulemaking process to remove medical debt from credit reports. However, if a medical bill is charged to a medical credit card, the debt is treated as ordinary credit card debt rather than medical debt and therefore not protected by this new rulemaking. So, while the ruling is promising, it represents the first of many actions that must be taken to address the problem of unnecessary medical debt burdening older consumers and will require a host of multifaceted solutions.