New Task Force Guidelines Recommend Anxiety Screening for Adults Under 65, but Research on 65+ Population Still Lags
By Beth Carter, June 22, 2023 12:11 PM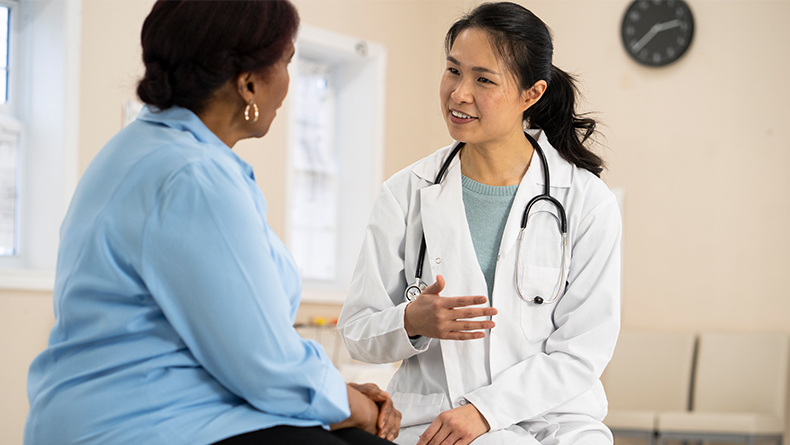 The United States Preventive Services Task Force (USPSTF) released new guidelines this week on screening asymptomatic adults for depression, suicide risk and anxiety—marking the first time the Task Force issued a recommendation specifically on screening for anxiety disorders among adults.

Renewing its recommendation to screen for depression in adults 18 and older, the USPSTF, an independent panel of medical experts, now also recommends screening adults between 18 and 64 for anxiety. "Amid the mental health crisis in the United States, the Task Force worked to provide primary care professionals and their patients with recommendations on evidence-based screening," says Task Force vice chair Michael Silverstein, MD, MPH. "Fortunately, screening all adults for depression, including those who are pregnant and postpartum, and screening adults younger than 65 for anxiety disorders is effective in identifying these conditions so adults can receive the care they need."

USPSTF's recommendations have significant implications. Under the Affordable Care Act, most insurers must cover screening tests with A and B grades from the USPSTF with no cost-sharing and both recommendations came with B grades. We note this provision is currently under legal challenge.

Notably, the recommendation on screening adults for anxiety doesn't address the needs of older adults. Due to insufficient scientific evidence, the Task Force could not recommend for or against screening for anxiety among adults 65 and older. They also could not recommend for or against screening for suicide risk in adults of all ages. "We are urgently calling for more research to determine the effectiveness of screening all adults for suicide risk and screening adults 65 and older for anxiety disorders," says Task Force member Gbenga Ogedegbe, MD, MPH.

Common disorders, but commonly unrecognized

Anxiety disorders are common mental health conditions characterized by persistent and elevated fears and worries about everyday events. There are several types of anxiety disorders including generalized anxiety disorder, social anxiety disorder, panic disorder, and phobias. Anxiety disorders can be successfully treated with a combination of psychotherapy, medication, and lifestyle interventions such as yoga and exercise.

However, anxiety disorders are often unrecognized in primary care settings, resulting in significant delays in treatment. In addition, multiple factors—such as age-related changes in physical health and cognition, other physical and mental health conditions, and medication side effects—can complicate the presentation of anxiety disorders in older adults.

These challenges have made it more difficult for older adults to have their anxiety detected and treated. In a survey conducted by AARP in March, [1] among adults who had never been diagnosed with an anxiety disorder only 4 in 10 respondents ages 50-64 and 65 and older had been asked by a health care professional in the past two years if there was a time in which they felt anxious or worried (figure).

The survey also found that 31 percent of respondents ages 50-64 and 19 percent of those 65 and older reported having been told by a health care provider that they had an anxiety disorder at some point in their lives (figure). Of those who were diagnosed with an anxiety disorder, 35 percent were told so by a health care professional when they were in their 40s and 31 percent were 50 or older.

Screening tools for older adults needed

The USPSTF's inability to recommend anxiety screening for adults 65 years old and older highlights the need for screening tools that are appropriate for older adults. We also need a greater investment in research on the aging process and its relationship with various mental health conditions. In the meantime, adults 65 years old and older should talk with their primary care providers about the risks and benefits of screening for anxiety.

Figure. Self-report of adults 50 and older being screened for or diagnosed with anxiety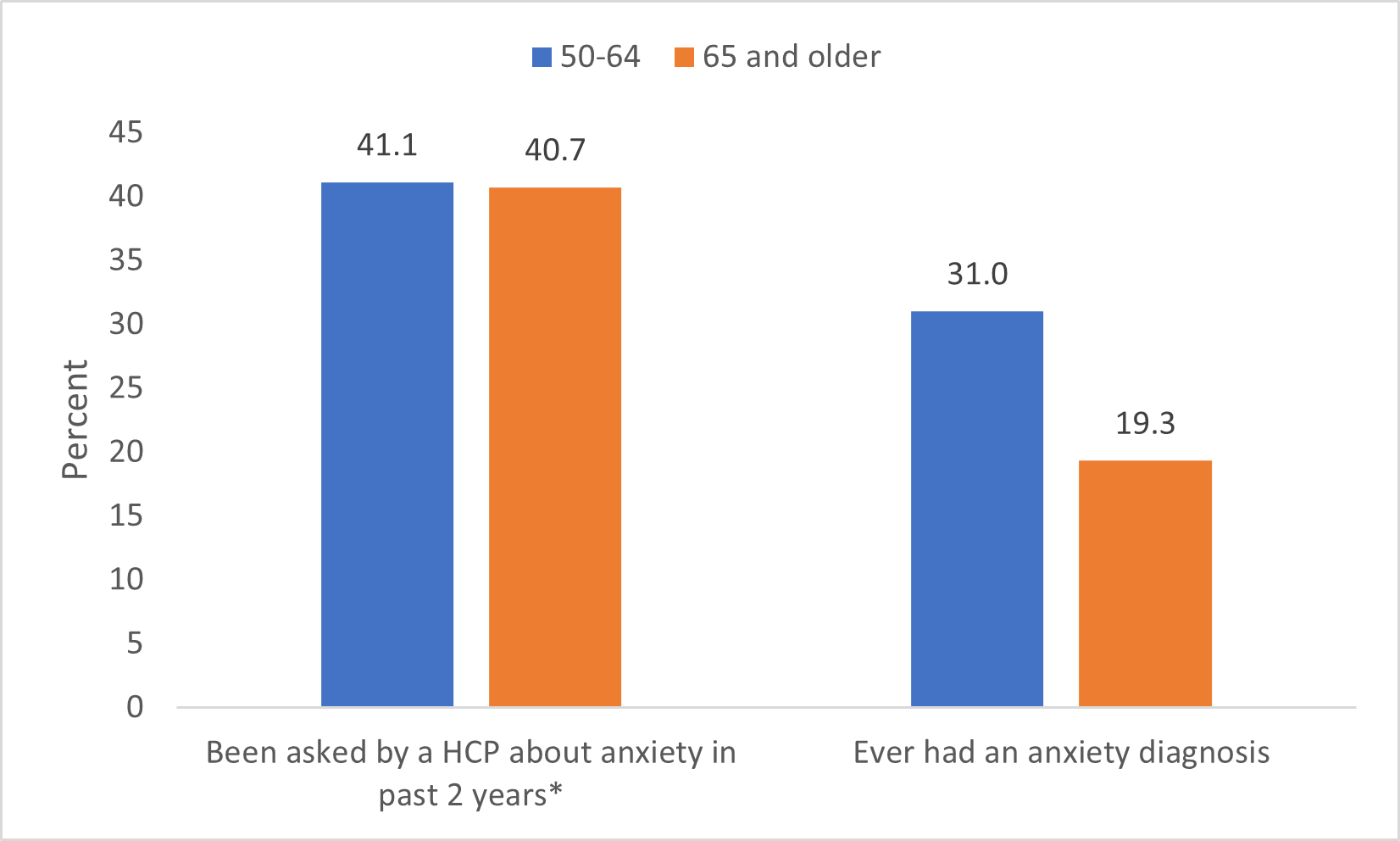 *Question asked of those who had never been diagnosed with anxiety
HCP=health care professional
Source: AmeriSpeak 50+ Survey, March 2023

[1] This national survey was conducted using NORC at the University of Chicago's AmeriSpeak 50+ Omnibus probability-based sample. AmeriSpeak is representative of the U.S. household population. Data are weighted by age, gender, and race according to the most recent Census population statistics.