No Leaping — Some Alternatives to Joint Bank Accounts
By Jilenne Gunther and Caitlin Kovalkoski, August 27, 2015 11:23 AM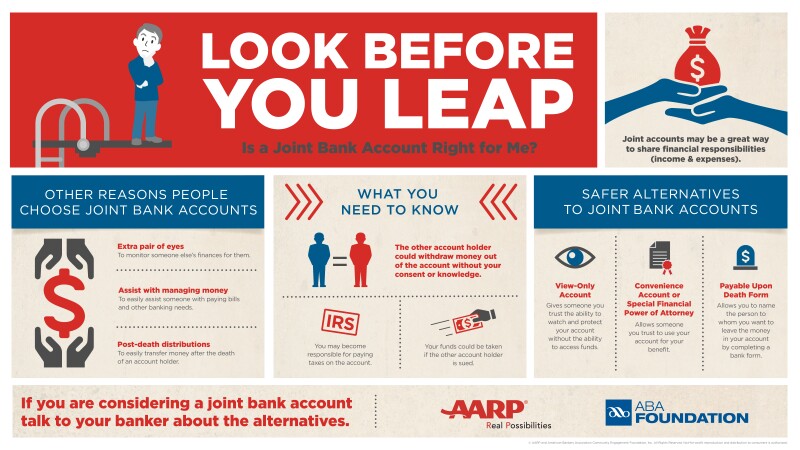 When looking to manage a loved one's finances, leave money to a beneficiary or simply monitor an immediate family member's account, many turn to joint accounts. While they may be easy to use, as described in a recent blog, joint accounts have risks. And there may be better options, depending on your needs.

Assisting With Money Management

As we all age, there might come a time when we need help with managing our money. In fact, recent research shows that one of the first signs of cognitive decline is the inability to manage finances. Over 18 million people serve as financial caregivers in the U.S., and that number will only continue growing as the population ages. In a recent AARP survey, 26 percent of financial caregivers had a joint account to assist someone with managing money.

There are a couple of alternatives to joint accounts. The first is a convenience account. These accounts allow someone, whom you have authorized, to use it for your benefit. It's similar to having a financial power of attorney, but for only one bank account. The person can make transactions on your convenience account but doesn't inherit the money from the account, and you are still the sole owner of the account, so the money would be protected from the other person's creditors.

If a convenience account is not an option at your bank, see if your bank has a financial power of attorney form with which you can give someone authority to manage your finances on just one account. In either case, it's best to put only what's needed in the account to cover expenses such as housing, utilities and food.

Monitoring a Bank Account

Rather than using a joint account as a way to allow another to watch your account for fraud, consider opening a view-only account. A view-only account allows you to give someone you trust, like a loved one, the ability to monitor your account without having access to the money.

View-only access could be as simple as receiving an extra bank statement in the mail or asking your bank to provide online access without the ability to make a transaction.

Leaving a Beneficiary Money in Your Bank Account

If inheritance is your only concern, then you certainly don't need a joint account. A payable-on-death (POD) account is an easy way to leave a beneficiary the money without having a joint account. All you need to do is notify your bank as to whom you want to inherit the money in your account. This can be as simple as filling out a form at your bank naming the beneficiary. It's that simple and typically free.

Remember, when it comes to managing your finances, the key is to explore your options. Find the right fit for your situation. If you're considering a joint bank account for whatever reason, just remember to talk to your banker and look before you leap.

* The recommendations herein do not constitute professional financial advice. Please consult a financial adviser before making financial decisions that may affect your future.

Jilenne Gunther, a senior strategic policy adviser for the AARP Public Policy Institute, works on policy solutions to curb financial exploitation and implement age-friendly banking practices across the country.

Caitlin Kovalkoski, a director at the American Bankers Association Community Engagement Foundation, provides bankers with resources to educate older consumers about financial abuse and exploitation.