50 Years After Dr. King's Nobel Peace Prize: The Power of Nonviolence
Nonviolence is a powerful and just weapon. Indeed, it is a weapon unique in history, which cuts without wounding and ennobles the man who wields it. I believe in this method because I think it is the only way to re-establish a broken community. —The Rev. Martin Luther King Jr., University of Oslo, Dec. 10, 1964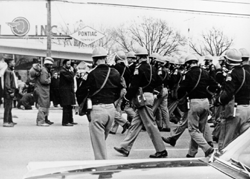 It was 50 years ago this month that Martin Luther King Jr. made this statement during his Nobel Peace Prize acceptance speech in Norway. It was during a season when thousands of young nonviolent protesters across the South were still standing against the nightsticks, water hoses and vicious dogs of local and state police. In fact, the timeline of events is worth noting:

The Nobel acceptance speech was delivered Dec. 10, 1964, five months after the Civil Rights Act of 1964 was signed by President Lyndon B. Johnson on July 2, 1964.
The Nobel speech also came three months before the infamous Bloody Sunday, March 7, 1965, in which now-Rep. John Lewis of Atlanta — in a nonviolent posture — suffered a severe blow to the head by a police baton.
Five months after that confrontation on the Edmund Pettus Bridge in the march from Selma to Montgomery, Ala., the Voting Rights Act was signed by Johnson on Aug. 6, 1965.


>> Visit AARP Black Community

The timeline illustrates the consistency of the protesters. Whether celebrating a victory or lamenting more violence against them, the protesters remained nonviolent — what Dr. King often said was one of the keys to a successful protest. The 50th anniversary of Dr. King's Nobel speech is particularly relevant this month, given the recent protests in Ferguson, Mo., and across the nation.

We would do well to learn from the surviving protesters of the 1960s — now wise elders — who recall those days of unearned suffering. While the issues and circumstances are different, the principles of nonviolence are still equally effective. Let us take note that because of the protesters' consistent nonviolent stance, their clarion cry did not go ignored. On the evening of March 15, 1965, President Johnson, before a joint session of Congress, finally adopted the words of the justice-seekers. Durimg his speech for voting rights, Johnson declared, "and we shall overcome."

>> Sign up for the AARP Advocacy Newsletter

I'd say this example gives all of America hope. Hope that the wisdom of our elders still works. Hope that, as Dr. King also said, "The arch of the moral universe is long, but it bends toward justice."

Photo: Public domain photos from the National Park Service













Also of Interest

See the AARP home page for deals, savings tips, trivia and more.