Civil Rights Songs in the Key of Freedom Still Resonate
"Precious Lord, take my hand. Lead me on, let me stand. I am tired. I am weak. I'm worn. Through the storm, through the night, lead me on to the light. Take my hand precious Lord, lead me on."
In the movie Selma, the Rev. Martin Luther King Jr. calls Mahalia Jackson, the "Queen of Gospel," at a moment when he is most discouraged. Over the phone, she sings "Precious Lord" to comfort him.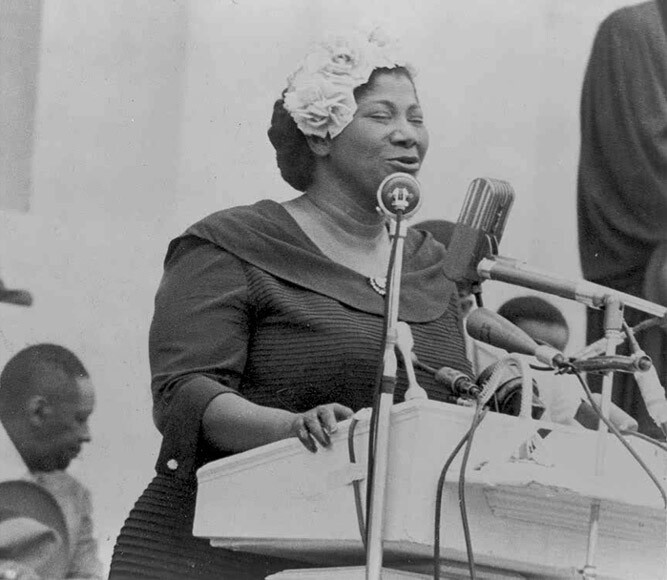 For me, this was one of the most touching scenes of this iconic movie, which I previewed with the Rev. Bernice King, the youngest daughter of Dr. King. The importance of the film cannot be stressed enough. We must take friends and family — especially young people — to see it. Our history must be remembered, documented and respected.

>> Visit AARP Black Community

In this same regard, as we celebrate the national birthday holiday of Dr. King, who applied the gospel to the quest for freedom of black people, let's also recall those historic songs of the civil rights movement that still move and comfort us in times of trouble. They also pay homage to Dr. King, who sometimes weaved them into his speeches and sermons. There was "Come by Here, My Lord," "This Little Light of Mine," and of course, "Oh Freedom."

But among the greatest is "We Shall Overcome," now known as the anthem of the civil rights movement. Its significance must not be understated.

President Lyndon Johnson adopted the song's title in his televised speech — delivered after "Bloody Sunday" confrontations in Selma, Ala., between police and marchers led by Dr. King, who were protesting for voting rights. The words signaled to Congress and the nation that Johnson was in sync with the demonstrators' prophetic message and that he would sign the Voting Rights Act of 1965.

>> Martin Luther King, Jr. - His Life and Legacy

Dr. King, on March 31, 1968, only four days before his death, gave a short speech titled, "We Shall Overcome." In it, he made a declaration that should perhaps resonate with us and hearten us even today: "We shall overcome. Deep in my heart I do believe we shall overcome. And with this faith we will go out and adjourn the counsels of despair and bring new light into the dark chambers of pessimism and we will be able to rise from the fatigue of despair to the buoyancy of hope. And this will be a great America! We will be the participants in making it so."

Photo: AmericasLibrary.gov, Prints and Photographs Division, Library of Congress

AARP helps people turn their goals and dreams into real possibilities, strengthens communities and fights for and equips Americans 50 and older to live their best lives. Discover all the ways AARP can help you, your family and your community at AARP Black Community.

Also of Interest



See the AARP home page for deals, savings tips, trivia and more