How AARP Helped One Homeless Vet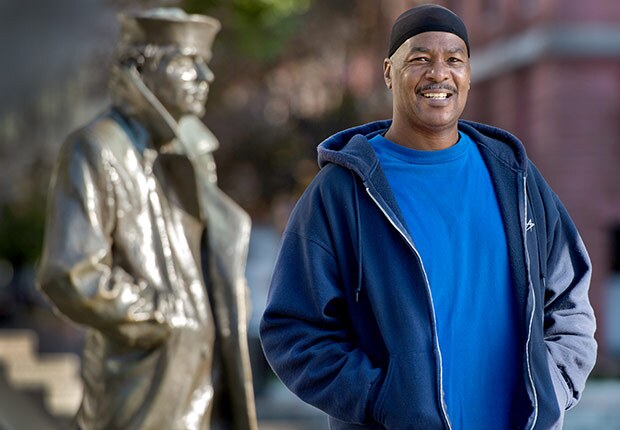 John Cherry had no job, no money, no home. What he did have were debilitating health problems and drug and alcohol addictions. "I hit rock bottom," says the 60-year-old Washington, D.C., resident.
But a year later the Navy veteran is on a path lined with hope. Guided by the Legal Counsel for the Elderly (LCE), an affiliate of AARP, Cherry secured a $1,400 monthly pension he was entitled to through the U.S. Department of Veterans Affairs plus more than $12,000 in retroactive benefits. LCE, which serves Washington residents, assisted Cherry in applying for and obtaining an income benefit targeted at low-income and disabled veterans.
"It gave me a sense of pride and dignity," says Cherry, whose back pain and degenerative joint disease prevent him from working. "That's all that I wanted."
Help bring relief to struggling seniors; find volunteer opportunities near you »
Cherry can pinpoint a moment of doom. Serving in the Navy aboard the guided-missile cruiser USS Columbus in the early 1970s, he fell off a gun mount during a drill and injured his back. Cherry started taking painkillers to ease his discomfort and became addicted to them along with recreational drugs he was already using.
Honorably discharged in 1975, Cherry attended the University of the District of Columbia and a job-training program and landed a clerk-typist position with the federal government. But after the demons of substance abuse caught up with him, he lost his job and all income. He became homeless, living with relatives, in his car or in shelters.
"I was hurt. I just couldn't get any support," Cherry says. "I wanted to be a part of the workforce, but I had too many physical ailments. The doctor told me I couldn't work."
Throughout, Cherry maintained contact with his VA liaison, who kept track of his whereabouts and status. A year ago the liaison told him about free legal services available through a new LCE program to assist veterans.
"The VA is a confusing yet wonderful resource for many of our clients," says Rebekah Mason, an LCE attorney who worked on Cherry's case with a team of staff members. "The VA has so many resources and benefits, but sometimes it's overwhelming just to know what's there, even as advocates. We at LCE do our best to point our veteran clients to the resources and benefits they are entitled to and deserve to receive."
Cherry's case was a big victory for LCE's Veterans Project. The service is working to develop partnerships with government entities, veterans organizations and other nonprofits so that it can connect with and help more vets.
Get discounts on health exams, prescriptions and more — AARP Member Advantages. »
The LCE team was "compassionate enough to stick with me," Cherry says. "They were like quiet angels."
Today, Cherry has a new start, a renewed faith in God and humankind, and a religious fervor. He is a devoted member of St. John's Church in Washington, where he volunteers for various projects such as building homes for the needy. "In my ups and downs, people have always accepted me there," he says. "I sensed their compassion for me and it changed me. It made me care for myself more."
Now he aspires to get a degree in theology, become a minister and continue to help others. "My ministry is still in motion." Cherry says. "I'm here to serve."
To contact Legal Counsel for the Elderly, call 202-434-2120.
Photo: Kate Patterson

Also of Interest

See the AARP home page for deals, savings tips, trivia and more.