Let's Celebrate Black Fatherhood by Reclaiming the Status of Black Fathers
He is often the most overlooked member of the family. And in American culture, though he is often misrepresented, his role is undeniable. Across the nation, black fathers are coming home from work or seeking work every day. Some are wearing neckties, some coveralls, a company uniform or whatever is required for their occupations. These men are involved in the lives of their children and families, who look up to them, who are inspired and protected by them, and who recognize their power and importance in the home.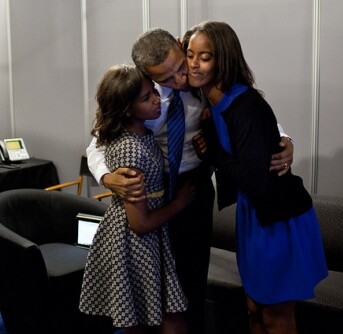 Yes, this truth flies in the face of the enculturated statistics that confront us daily about the absence of black fathers or the stereotypical "deadbeat dad." Some of these issues obviously exist in the black family as well as other cultures. But the reality that is so often buried and unacknowledged is that millions of African American children do have fathers or father-figures who are present and active in their lives. And I am so happy to celebrate that!
>> Visit the AARP Black Community
Recently, I was blessed to recall the impact of my own father as I read the new anthology by author and editor Kenrya Rankin Naasel, Bet on Black: African-American Women Celebrate Fatherhood in the Age of Barack Obama. Finally a great, positive book about African American men.
For the June 2014 AARP Black Community Book Club, I had the pleasure of interviewing Kenrya and what an inspiration! She beamed as she described her father as having been "tireless and doting" and "really a fantastic father" even though he was a single dad raising two daughters.
She also described her husband's relationship with their three daughters, chuckling as she said, "He's great with them. I don't exist when Daddy's in the room!"
>> Sign up for the AARP Advocacy Newsletter
And she explained the solidifying inspiration for the book, President Obama: "While he was on the campaign trail, he talked a lot about how it was important for him to provide his daughters with a foundation that only a father could provide his kids."
In the book, 19 other women from various walks of life write personal anecdotes and testimonials about matters of the heart to which we can all relate: the joys, struggles, tensions, pivotal moments and memories of their fathers or father-figures and the impacts on their lives.
Particularly lately in the press, there's been this stream of negativity around black men. Yet, there is still reason for love and celebration. Single dads, married dads, husbands, brothers, uncles, grandfathers, mentors, coaches and teachers. Regardless of the situation, we have heartwarming stories to spotlight the power and influence of the black men in our lives. Let's take this opportunity to celebrate black fatherhood!
>> Get travel discounts with your AARP Member Advantages.
Photo: Whitehouse.gov
Also of Interest
See the AARP home page for deals, savings tips, trivia and more