Social Media Could Make New Strides for Civil Rights
Updated 11/18/14
The third in a series celebrating the 50th anniversary of the 1964 Civil Rights Act.
If the organizers of the 1963 March on Washington for Jobs and Freedom had used Facebook, Twitter, Instagram and other social media to draw people to Washington, what would have been different about that great gathering on the National Mall?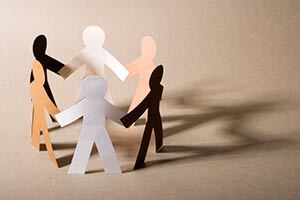 That question kicked off a Martin Luther King Jr. holiday forum discussion this year. The conversation has grown from what could have happened with social media to ways that technology can now be used to continue the quest for civil rights, racial equality and economic justice.

>> Visit AARP Social Media Training Center

"It's amazing that we were able to amass as many people as we did given the communication that we had. But, if we had had email, if we had Instagram and Twitter and Facebook, just imagine the Poor People's Campaign and that kind of communication across this nation. Man-o-live, woman-o-live, what a gathering we would have had in Washington!" said the Rev. William B. McClain, a professor at Wesley Theological Seminary in D.C. "We would have already accomplished the 'beloved community' if we'd had this kind of communication."

The Revs. Louis and Demetra Hutchinson of Restore Together, a multilingual digital platform that aims to diminish poverty and oppression in America and beyond, believe the continuation of this conversation could significantly affect social issues such as poverty and education in the United States and other nations.

The Rev. Brenda Girton-Mitchell of the Office of Faith-Based and Neighborhood Partnerships in the U.S. Department of Education agreed. But she described a vision for a "digital March on Washington" that presses the issue of "cradle-to-career learning."

>> Tomorrow's Civil Rights Leaders: 11 Faces to Watch

She said it would start by spreading the word and "reminding us that we have to have a culture of educational excellence."

The use of social media for civic causes is becoming increasingly common as more people — from diverse economic backgrounds — are expanding their Internet skills to social media. A 2013 Pew Research Center study says the percentage of Internet users on Twitter has more than doubled since November 2010, now at 18 percent. More than a quarter of African American Internet users are on Twitter.

From presidential elections and petition signings in America to what has become known as the Arab Spring of pro-democracy protests across the Middle East, social media have proven to be among the greatest tools for starting movements.

>> Sign up for the AARP Advocacy Newsletter

But maintaining social change is where the work must be strengthened, said the Rev. David McAllister-Wilson, president of Wesley Theological Seminary. "Social media has been credited with starting or helping to start the Arab Spring," he said. "But now research shows it has not been able to continue it."

Joshua DuBois, former head of the White House Office of Faith-Based and Neighborhood Partnerships, said that in order to grow and maintain civic change, the strategy must be to focus "less on Washington and more on restoring a sense of empathy around the country. ... I think that [Dr. King] would be the first one to go into red states and two-party districts and remind people that we are all in this together, that we are all connected."

And through social media, DuBois said, "I think that we have a unique ability to do that."

Photo: timsa/iStock
















Also of Interest

See the AARP home page for deals, savings tips, trivia and more.