Stress, Anxiety Raise Risk of Alzheimer's for Women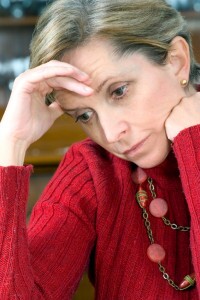 Middle-aged women who are worried, moody, jealous and stressed have double the risk of developing Alzheimer's disease later in life as do those with calmer personalities, according to a new Swedish study published in the journal Neurology.
>> Food That Could Boost Brain Power
Swedish researchers followed 800 women — average age, 46 — for nearly 40 years and gave them personality tests to judge whether they were neurotic, stressed, introverted or extroverted. The researchers also studied hospital records and the results of neurological exams to determine whether the women developed Alzheimer's disease. Those who scored higher on the neuroticism spectrum tended to have lower self-esteeem and be more emotional, anxious, worried and prone to guilt, jealousy and anger.
"Women who had high neuroticism and high introversion were twice as likely to have Alzheimer's disease, compared with the group who had low neuroticism and high extroversion," lead author Lena Johansson of the University of Gothenburg said in a phone interview. The researchers also found that the more neurotic the women were, the higher their risk of Alzheimer's disease. This study adds to an intriguing body of research that finds personality affects dementia risk. In a 2013 study, Johansson and colleagues found that women who had lived through significant stressors in midlife had a greater risk of developing dementia later.
Scientists are not exactly sure why the combination of neuroticism, introversion and stress is a dangerous one for women's brains. An obvious answer is that women with neurotic personalities may be more likely to lead an unhealthy lifestyle — drinking and smoking more, for example. But Johansson and her colleagues think there's more to it than that. Stress causes an increase of the hormone cortisol in the brain, which may cause changes in the hippocampus that can damage learning, cognition and memory, she said. And neuroticism has been linked to an increase in the tangles in the brain that are one of the hallmarks of Alzheimer's disease.
>> Get discounts on health services with your AARP Member Advantages.
So are neurotic women doomed to dementia? Not at all, Johansson says. Interestingly, women in the study who were neurotic but said they didn't feel stressed were not at higher risk for Alzheimer's disease. "If you live a calm life and handle stressors well, your risk isn't increased," Johansson says.
"So if you have trouble sleeping, are often irritated and feel overly stressed, it's important to take care of those symptoms," she adds. "It seems to be the long-term stress that is dangerous." Speak to your doctor or a therapist, she recommends. "Try to lower the stress in your body."
Photo: iStock/absolut 100
Also of Interest

See the AARP home page for deals, savings tips, trivia and more.