COVID-19 and Older Adults: Think (and Learn) Globally; Act (and Innovate) Locally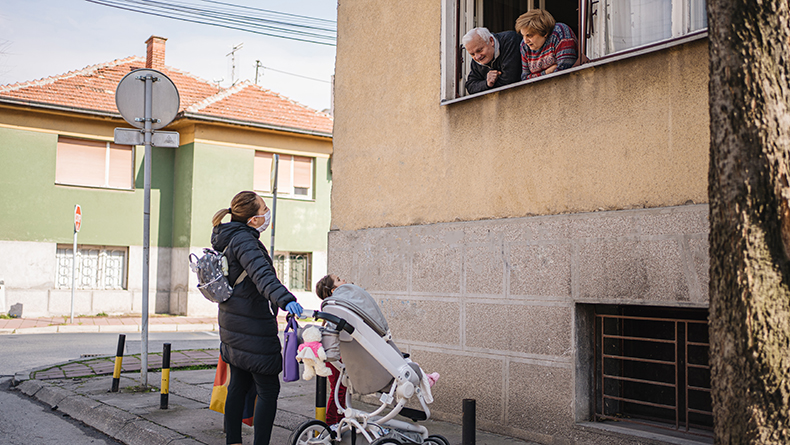 In the face of the outbreak, AARP is providing information and resources to help older people and those caring for them protect themselves from the virus and prevent it from spreading to others. You can find AARP's coronavirus resources at www.aarp.org/coronavirus.

Across the globe, many communities—both local and virtual—are innovating out of necessity to support older adults and immunocompromised people as they cope with the COVID-19 pandemic. Promising practices range from technology for meeting basic needs and combatting isolation, to efforts that break down silos and spur individual creativity.

Meeting Basic Needs

For many people, their virtual worlds became the center of gravity seemingly overnight, and the latest technology is increasingly bringing neighbors closer together. New virtual communities include #StudentsAgainstCorona, a hub for student volunteers to support older people by providing "no contact" essential services such as grocery shopping, which was founded in Europe and is now in 9 countries across the globe. A women-owned taxi service called She-Taxi, teamed up with HelpAge in Kerala, India to share information through WhatsApp in order to provide free prescription drug delivery to older adults. In rural Carbondale, Colorado, one local resident makes daily visits to the town's sole supermarket and takes pictures of available items to post on Facebook so others can avoid unnecessary excursions.

Useful Information and Resources

During this rapidly evolving health crisis, access to relevant and trustworthy information and helpful resources is critical. AARP is providing coronavirus information and resources at www.aarp.org/coronavirus, to help older people and those caring for them protect themselves from the virus and prevent its spread to others. The Spanish Red Cross created an online course on the coronavirus for residents, and in South Africa, the Ndlovu Youth Choir made a video to share helpful tips through song.

Some local governments are regularly updating sources of information with helpful data and resources. For example, Natick, Massachusetts' website provides daily updates on COVID-19 cases and the number of cases removed from quarantine, and links to a 24 hour online screening tool that allows users to check their symptoms. In Western Australia, one local government has expanded WiFi access around public buildings, and another will partially open libraries, for use by people without internet at home.

To ensure self-care while we isolate ourselves, some local senior centers are creating new virtual activities or moving existing ones online. In Washington, DC, a growing directory of online activities includes fitness, social events, and the arts. One participant thanked staff for continuing ukulele classes online, saying, "Afterwards I was amazed that my anxieties were dispelled and my spirits lifted for the rest of the day."

Systemic and Cross-Sector Innovations

Some of the most innovative initiatives have broken down silos and necessitated cross-sector collaboration. Advocates in the UK pushed to change the hours for use of free senior bus passes to correspond with the earlier "senior shopping" hours at supermarkets. In Ireland, when health care workers were having their vehicles booted at hospitals while on the job, the Health Service Executive worked with local police to suspend the practice. Ireland's postal service and Department of Social Protection have introduced emergency "Temporary Agents" who can collect pensions on behalf of those who are self-quarantining. And in Israel, the defense establishment is developing a plan with local governments to care for the country's older population and others at greater risk.

Combatting Isolation

As communities implement physical distancing to slow the virus' spread, socially connecting becomes more critical, and technology is playing a central role in making this happen. AARP launched a Community Connections website to help people start local mutual aid groups and volunteer to call isolated elders. In France, Les Petits Frères des Pauvres adapted tablets with a simplified interface that is more user friendly for older people. A virtual retirement community in Singapore, Aspire55, launched an academy to help seniors learn how to use online products and services such as grocery delivery apps, while the city of Leeds in the UK is offering free hour-long phone lessons so older adults can learn to use their mobile phones and tablets to video call loved ones. And Belgium-based ZoraBots is sending robots to nursing homes all over Europe, free of charge, to mitigate loneliness for residents.

Despite all the technology, some of the most impactful interventions are creative solutions that provide a human "touch," transcending physical distance and pandemic-created barriers. At nursing homes, staff are enabling family "visits" by wheeling residents to large windows so they can see their loved ones standing outside and communicating with signs. Help Hub, UK is a free service created by a group of qualified therapists, providing professional, one-on-one support to isolated individuals. And in some rural areas, stable owners are prancing ponies by windows to provide moments of joy to quarantined older adults and children.

Glimmers of Light

This public health crisis is illustrating that sometimes under the harshest of conditions emerge the best and most innovative of human impulses. Channeling this ingenuity through community-led responses creates the connective tissue to reach residents who critically need local services and support.

AARP is collaborating with partners such as the World Health Organization and the International Federation on Ageing on a new initiative to vet these types of innovative community-based responses, and we look forward to publicizing these good practices as soon as they are available. AARP International is also creating this web page to share these and other relevant global resources.