Can a Take-Home Test Reveal Early Alzheimer's?
By Candy Sagon , January 22, 2014 10:04 AM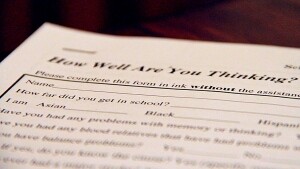 Could a 15-minute test you take with pen and paper provide an early warning of Alzheimer's or other cognitive problems?
Researchers at the Ohio State University Wexner Medical Center say the simple 22-question test, called the Self-Administered Gerocognitive Examination, or SAGE, can't diagnose Alzheimer's, but it can reveal cognitive impairments at an early, more treatable stage.
(To take the test, click here to download.)
These impairments "could be related to many conditions like medications, ministrokes , dementia or sleep apnea to name a few. Many of these conditions are treatable," Douglas Scharre, M.D., director of the center's Division of Cognitive Neurology and head of the Memory Disorders Research Center, said in an email.
"Even if early Alzheimer's is eventually diagnosed, starting on the current medications we have for Alzheimer's works much better to slow down the process than if you start on treatments later," he said.
>> Sign up for the AARP Health Newsletter
Previous research by Scharre and his team found that 80 percent of people with mild thinking and memory issues can be successfully identified by the test, while 95 percent of people without issues will have normal SAGE scores.
In the newest study, researchers visited 45 community events and asked 1,047 subjects 50 or older to take the exam. The test identified 28 percent with cognitive impairment; follow-up with a physician was recommended for test takers who missed six or more questions.
The findings, published in the Journal of Neuropsychiatry and Clinical Neurosciences, also showed that the test's simple format - pen and paper instead of a computer; no staff member required for administration - means the exam would be practical to use to screen large numbers of people.
People like that they can take the test on their own, Scharre said, and then take the results to their doctor "to start a conversation about memory or thinking deficits if they are noticing them."
But some researchers cautioned against placing too much faith in self-diagnosis. British Alzheimer's expert Simon Ridley, Ph.D., of Alzheimer's Research UK, told the Telegraph that more research is needed into whether the SAGE test is really better at assessing cognitive changes than other existing cognitive tests are.
>> Get travel discounts with your AARP Member Advantages.
"It's important to note that the test is not designed to diagnose dementia, and people who are worried about their memory should seek advice from a doctor rather than attempting self-diagnosis with a test at home," he told the newspaper.
The SAGE questions are designed to test different parts of brain functioning, including problem solving, visual-spatial abilities and abstract thinking, Schaare explained. Sample questions: How many nickels in 60 cents? How are a watch and a ruler similar?
If you want to take the test, go to www.sagetest.osu.edu.
Photo: Courtesy Ohio State University Wexner Center

Also of Interest

See the AARP home page for deals, savings tips, trivia and more