CVS Price Error For Medicare Drugs: You May Get A Refund
By Candy Sagon , September 05, 2012 08:00 AM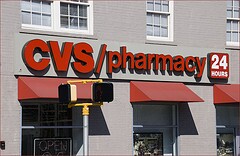 Nearly 13,000 Medicare Part D beneficiaries will receive reimbursement checks from CVS Caremark, the Federal Trade Commission (FTC) announced Tuesday, as part of a $5 million settlement for overcharging on some drugs for seniors and the disabled.
The checks are being sent to customers who overpaid for drugs used to treat epilepsy and breast cancer, among other illnesses, and who were forced into the so-called doughnut hole - in which no drug costs are reimbursed - as a result of the higher prices, the Associated Press reports.
The settlement ends a three-year federal investigation into one of the country's largest providers of prescription drugs.
The FTC said that the chain, through its RxAmerica subsidiary, had posted incorrect prices online for some Medicare Part D prescription drugs sold at CVS and Walgreens stores. The inaccurate prices were posted from 2007 through at least November 2008 on a Medicare site as well as some third-party websites, the FTC said.
Those Medicare Part D beneficiaries who chose RxAmerica's coverage plan based on the listed prices ended up paying more at the pharmacy. In some cases the real prices were 10 times higher than those posted.
Checks were mailed to consumers beginning on Tuesday. The checks will be valid for 60 days from the date they are issued and must be cashed by then, according to the FTC.
Consumers who have questions can call a toll-free hotline at 888-773-8392.
In other health news:
High blood pressure "out of control" for many Americans, says the CDC. Nearly a third of all Americans have high blood pressure, and more than half of those do not have it under control, the U.S. Centers for Disease Control and Prevention said Tuesday. Substantial numbers of people do not even know they have a problem, and many more do not have their condition under control, even though they are taking medications for it, the Los Angeles Times reports.
For cardiac arrest, longer efforts at CPR yield benefits, study shows. The New York Times reports that hospitals may be ending cardiopulmonary resuscitation (CPR) efforts too soon in cases of cardiac arrest. A new study finds that patients have a better chance of surviving in hospitals that persist with CPR for just nine minutes longer, on average, than in hospitals where efforts are halted earlier. (For a 60-second video on how to perform hands-only CPR, click here.)
FDA approves drug for a rare leukemia that strikes older adults. Federal health regulators approved a new drug for a rare type of leukemia, Reuters reports. The medicine, called Bosulif, treats chronic myelogenous leukemia (CML), a blood and bone marrow disease that usually affects older adults. About 5,430 people are expected to be diagnosed with the cancer in 2012, the U.S. Food and Drug Administration says.
Photo: Ron Cogswell via flickr