AARP Is among Top Innovative Employers Offering Emergency Savings Solutions at Work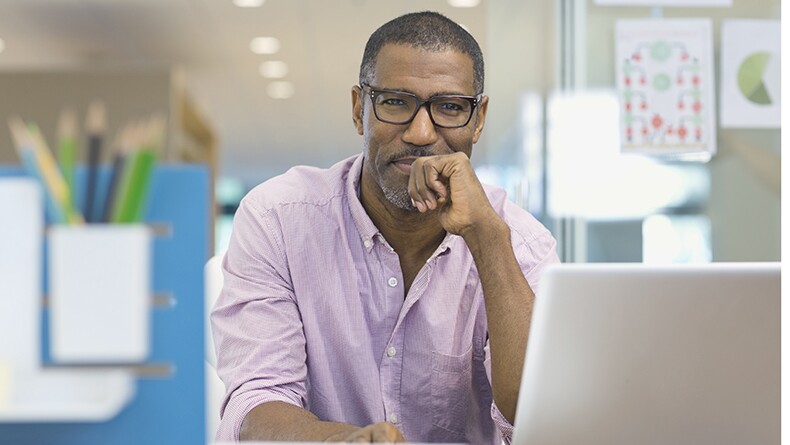 A growing number of employers are offering benefits that help their employees save for emergencies. This growth aligns with demand from workers; a new poll from AARP finds that about 90 percent of working adults want their employers to help them save for emergencies automatically with every paycheck. AARP was an early champion of employer-facilitated savings, and likewise established our own employee emergency savings program more than a year ago. Our employees' savings stories, together with our survey data, show the promise of workplace emergency savings solutions at scale.

A Broad Base of Working Adults Support Emergency Savings Programs

Worker support for payroll deduction emergency savings programs is high across age, income, race, and gender categories. AARP surveyed adults 25 years and older who had worked or searched for a job last year. A third said they are less able to save for emergencies than they were before the pandemic, with 42 percent unsatisfied with their ability to save for emergencies. Overall, support for "a benefit that helps employees save a small portion of each paycheck into an emergency fund" ranged from 85 percent to 91 percent across the diverse range of those surveyed (see graphic). The survey uncovered similar levels of support for public policies to encourage saving for emergencies.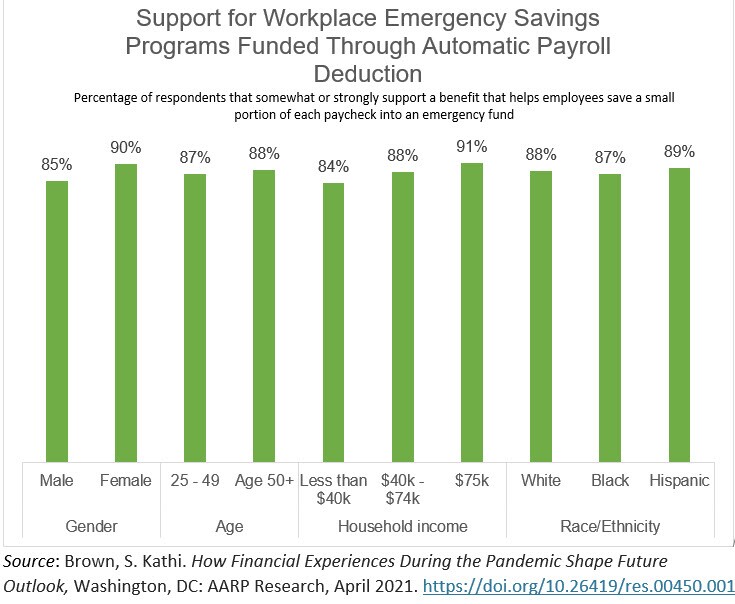 AARP's Emergency Savings Program Makes a Difference in Our Employees' Lives

In addition to AARP, several large entities, including Best Buy, Truist (formerly SunTrust), and ADP, have recently announced workplace emergency savings initiatives. Although the design of each of these companies' programs will vary, the ideal approach delivers on consumers' priorities of convenience, control, and privacy.

These principles underlie AARP's own employee emergency savings program, which uses the Wisely Pay payroll card from payroll provider ADP. While payroll cards were designed to store an employee's entire paycheck, they can also store regular emergency savings deposits. In our program, employees elect to split their direct deposit, contributing a small portion of their pay each month to their personal emergency savings card (see more about this first-of-its kind program here). Employees can use the card anywhere a debit card is accepted.

We've heard from many AARP colleagues about how they've used their emergency savings card in times of need. One employee's teenage daughter, who had just gotten her drivers' license, was lost on the road with a drained phone battery. Using her companion card, which is one of the features of our emergency savings program, she was able to buy a phone charger and find her way home using GPS. Another colleague used her emergency savings after a health scare left her with a hefty medical bill. Other AARP employees haven't spent their emergency funds yet, but they tell us they feel greater peace of mind knowing they have a savings cushion just in case.

Policy Clarity Can Help Emergency Savings Programs to Deliver on Their Promise

AARP has long held that, to truly meet employee demand for workplace emergency savings solutions, workers should be automatically enrolled in such a program, while having the option not to participate. Automatic enrollment has catalyzed retirement savings, boosting enrollment and participation in 401ks and other workplace plans to help people meet their savings goals. Regulators can build on the example from the Consumer Financial Protection Bureau to clarify that enrollment in emergency savings programs is allowable and advantageous for workers. In fact, that has certainly been the case at AARP. In the words of one AARP employee, "If I had not enrolled in this program, I surely would not have been able to pay for this unexpected expense or had enough time to save for the costly medical bill."