Combating Coronavirus through Service: The Many Benefits of Volunteering and National Service at Any Age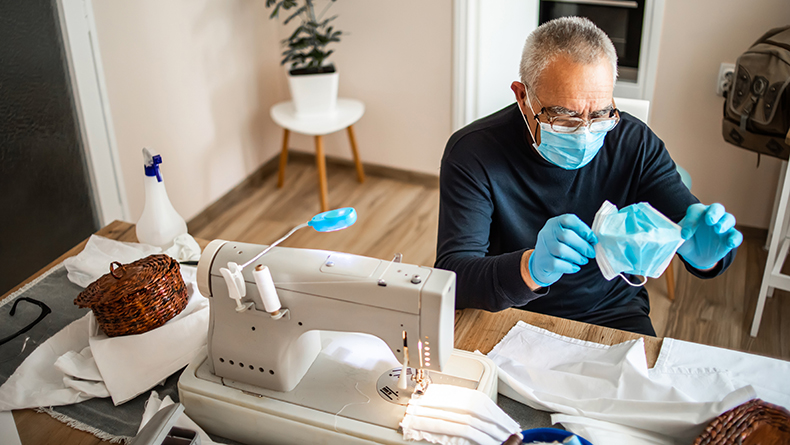 In the face of the outbreak, AARP is providing information and resources to help older people and those caring for them protect themselves from the virus and prevent it from spreading to others. You can find AARP's coronavirus resources at https://www.aarp.org/coronavirus/. If you or someone you know needs help, visit aarpfoundation.org/findhelp for resources in your community and online. If you are interested in helping as part of a mutual-aid group in your area, you may find one through AARP's Community Connections tool.

The COVID-19 pandemic has increased the need for help, and volunteers of all ages have answered the call to service. Volunteering allows people to serve their communities, while also improving their skills, health, and even longevity. At the same time, volunteerism provides a critical, but rarely acknowledged, contribution to our economy. Volunteers of all ages bring strengths that communities can leverage as they respond to and recover from the COVID-19 pandemic—we just need to give all adults, including those age 50 and older, an opportunity to serve safely.

Economic Impact

"Unpaid activities" such as volunteering are generally considered worthwhile, but they don't have any value—at least not according to conventional economic theory and systems of accounting. This is because conventional economics only recognizes that something has value when it results from market transactions. But some economists believe that this view is too narrow, and they have come up with ways to assign value to unpaid activities, including volunteering.

Data from the American Time Use Survey showed that people 18 and older in the U.S. spent about 13 billion hours volunteering in 2018. Of those individuals, more than half were 50 and older. What if we had to pay someone to replace this labor? How much would it cost? Thanks to the new methods for assigning value to unpaid work, we can answer those questions.

A recent AARP Longevity Economy® report found that volunteering by adults 50-plus alone is worth $140 billion. Add to that the $114 billion contributed by those under 50 and the total reaches $254 billion, equivalent to the total amount of venture capital investments globally in 2018.

The impact of volunteering extends beyond the economy and the communities served; it can offer many personal rewards as well. At a time of economic downturn, volunteering can be especially beneficial, as research has shown that it can help with job searches. In fact, the research suggests that unemployed individuals who volunteer are more likely to become employed a year later.

Health Impact

Volunteering can also decrease the risk of social isolation and loneliness, particularly in older individuals. Case in point: Nearly 90 percent of those who donate time to Senior Corps, a national service program that supports volunteers age 55 and older, have reported fewer feelings of isolation, which can be bad for your health. Just how bad for your health are social isolation and loneliness? A recent scientific report equates their health impact to smoking 15 cigarettes a day! Sadly, the arrival of the novel coronavirus has made older individuals feel even more lonely and isolated. Fortunately, there are volunteer opportunities that won't pose a health risk for vulnerable populations. For example, AARP Community Connections, including its Friendly Voice effort, connects volunteers to people who need help or are isolated; meanwhile, AARP's Create the Good offers links to virtual volunteer opportunities for individuals sheltering at home.

As we're learning, the positive effects of volunteering go beyond mental health. Research has shown that people who volunteer live longer than those who don't. While some researchers believe this is because volunteers tend to have healthier lives, others believe there are health benefits to volunteer activity. A rigorous study involving AARP Foundation's Experience Corps program showed that serving 15 hours a week in the Baltimore City Public Schools resulted in increased physical activity and better brain health among AmeriCorps members age 55 and older. National service programs such as AmeriCorps and Senior Corps provide important support that allows volunteers of all ages to engage in the types of intensive service that is linked with some of these health benefits.

Expanding Volunteer for All Ages

Volunteering is a win-win for volunteers and the people and communities that they serve. We know that being asked to volunteer is one of the most important predictors of the likelihood of volunteering. If we limit who is called to serve, we run the risk of limiting these potential health benefits to a privileged group. So, as we seek to combat the pandemic, we must make sure to create safe volunteer opportunities for people—and communities—that have been overlooked. Existing proposals to expand national service to engage college graduates in combatting COVID-19 should be further expanded to include people of all ages. This will ensure that all Americans have the opportunity to contribute through service, while also improving their own health and well-being.