COVID-19 Provides Chance to Tap the Potential of All Nursing Facility Immunization Programs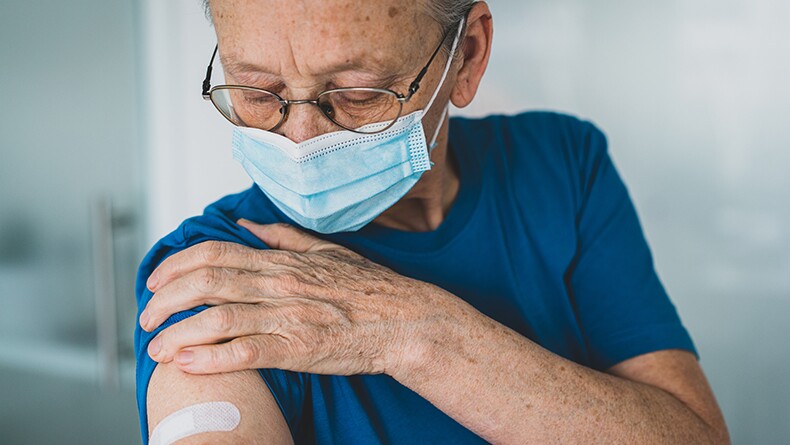 Since December 2020, nursing facilities have taken steps to deliver lifesaving COVID-19 vaccines. According to the Centers for Disease Control and Prevention (CDC), 78 percent of nursing facility residents received at least one vaccine dose in the first month that COVID-19 vaccines were available. Many factors, including the prolonged efforts of facilities and certain public policy interventions, such as a Centers for Medicare & Medicaid Services (CMS) rule requiring that all nursing facility residents receive vaccines, may have helped the COVID-19 immunization rate among residents reach 86 percent as of mid-October and continue to help it to inch upward.

This success has application beyond the pandemic. COVID-19 immunization provides an opportunity for nursing facilities to consider the structure of all of their immunization programs. As facilities use the lessons learned to put in place policies and programs to continue delivering COVID-19 vaccines, they also should evaluate the quality and effectiveness of their influenza and pneumococcal immunization programs.

As Resident Immunization Rates Increase, Case and Mortality Rates Decrease

In 2005, CMS finalized a rule that required all facilities to offer each resident an influenza vaccine annually (during flu season) and a pneumococcal vaccine and projected that this change would lead to resident immunization rates over 90 percent; however, rates have never reached that goal. Influenza immunization rates for all residents peaked at 78 percent in 2009 and pneumococcal immunization rates at 80 percent in 2010. Since 2006, the average immunization rate among all residents is 75 percent for influenza and 74 percent for pneumococcal.

COVID-19 immunization in nursing facilities, however, is a different story with different results. As soon as officials authorized COVID-19 vaccines, facilities began participating in the Pharmacy Partnership for Long-Term Care Program, which expedited immunization through pharmacy-led onsite clinics, by working around existing facility protocols, and by giving over full management of vaccine administration to partner pharmacies. The program immunized more than three-quarters of residents and half of staff and, as a result, rates of infection and death plummeted and remained low for several months.

The AARP Nursing Home Dashboard reports that from December 2020 to June 2021, the incidence of COVID-19 cases among nursing facility residents decreased from about 1 out of every 9 residents to 1 in 600 residents. And during the same period the number of deaths among nursing facility residents dropped in similar fashion, from nearly 1 out of every 50 residents in January 2021 to fewer than 1 in 3000 in July.

Meanwhile, since summertime, the rapidly spreading delta variant has caused cases and deaths to rise in the broader population across the country, and in nursing facilities as well. Even so, the overall rates of infection and death in nursing facilities have remained far below the winter peak, unlike in the broader community, where cases, hospitalizations, and deaths during the delta peak have approached and, in some areas, surpassed last winter's spike.

Historical Patterns of Immunization Take-up

In order to use the example of COVID-19 immunization and seize this opportunity to improve influenza and pneumococcal immunization programs, facilities must overcome historical barriers that have stalled influenza and pneumococcal immunization rates. As shown in the data below from the AARP Nursing Home Dashboard and a recent Public Policy Institute report, a comparison of state-level COVID-19 immunization rates from September 2021 with historical influenza and pneumococcal immunization rates from 2006 and 2019 illustrates similar patterns of cross-state variation in immunization rates.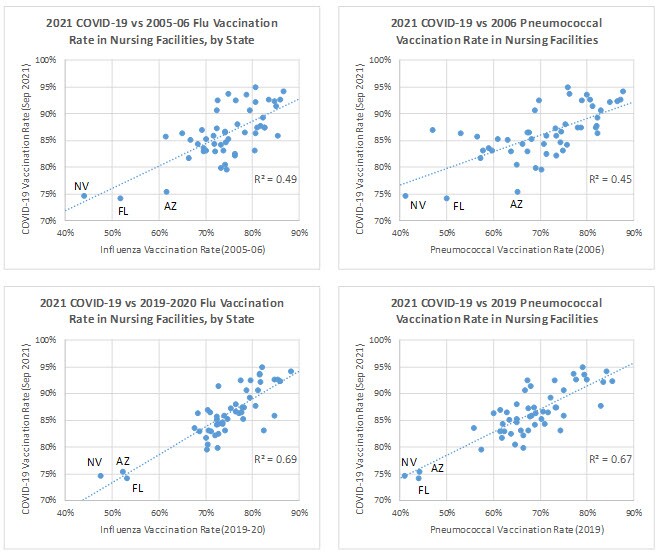 Source: AARP Nursing Home Dashboard and AARP Analysis of CDC Data

Going back all the way to 2006, historical influenza and pneumococcal immunization rates among nursing facility residents accounts for nearly half of the state-level variation in COVID-19 vaccination rates, 15 years later. When 2019 influenza and pneumococcal vaccination rates are compared to the September 2021 COVID-19 resident immunization rates, the relationship is even stronger, with historical influenza and pneumococcal immunization rates accounting for more than two-thirds of the state variation in COVID-19 resident vaccination. Additionally, the three states that have consistently lagged in COVID-19 resident immunization rates (Arizona, Florida, and Nevada) also had, by far, the lowest influenza immunization rates in 2006 and the lowest influenza and pneumococcal immunization rates in 2019. In other words, states that had higher COVID-19 vaccination rates also had higher immunization rates and states that had lower COVID-19 vaccination rates had lower immunization rates.

Many factors have influenced the sagging rates in certain states, including the layering of federal and state regulation and facility policies and, more recently, the politicization of the COVID-19 vaccine. Yet, this pattern of historic immunization rates, prior to the existence of COVID-19, suggests that longstanding demographic, regional, or infrastructure factors may also contribute substantially to the observed differences in immunization rates.

Lessons learned from the example of COVID-19 immunization of residents, which is approaching 90 percent nationally and above that in many states, can help facilities consider how to improve immunization rates for all programs that have fallen short of expectations. And by strengthening existing influenza and pneumococcal immunization programs, fully integrating COVID-19 immunization into facility policies, and developing and formalizing coordination across immunization programs, nursing facilities will take important steps to limiting preventable infections and deaths among residents.