Job Creation Decreased Significantly in May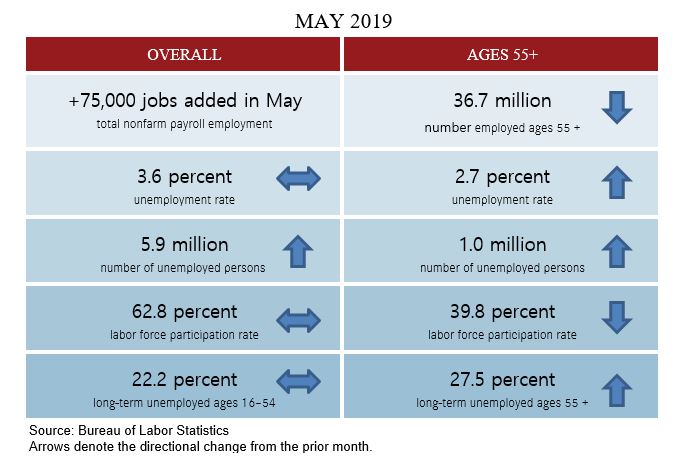 Employment Overview

The number of jobs added to the economy fell sharply in May, according to the Bureau of Labor Statistics (BLS) monthly Employment Situation. The economy added 75,000 jobs, a major drop from the 224,000 jobs added in April (revised down from +263,000 jobs). The overall unemployment rate held steady at 3.6 percent, but edged up slightly for those ages 55+ (2.7 percent). The number of people ages 55+ who were unemployed increased to one million.

The overall labor force participation rate was unchanged at 62.8 percent, but the rate was down slightly to 39.8 percent for those ages 55+. While jobseekers ages 24 and younger continued to experience the shortest average durations of unemployment in May, those ages 35 to 44 showed higher average durations of unemployment compared with jobseekers ages 45 to 64. Meanwhile, average long-term unemployment increased substantially for those ages 65+.

Spotlight: the Value of Age Diversity in the Workplace

Recently, business leaders from around the world gathered in Washington DC for the AARP Global Summit on the Future of Work for All Generations. Central to the day's discussion was the growing consensus that age diversity must be a key component of any effective diversity and inclusion (D&I) strategy.

Business leaders are focusing on age diversity with good reason. With the economic expansion approaching its tenth year and job opening levels rising, employers know that they cannot afford to overlook any sources of talent. Meanwhile, older workers, especially those ages 65 and older, are the fastest growing demographic in the labor force.

Many companies already recognize the value of including age diversity in their D&I strategy. These leading-edge organizations know that this is about more than simply adding an overlooked demographic to an existing D&I program – it is about building a cohesive and effective overall talent management strategy. As a growing body of research demonstrates that age discrimination interacts with and sometimes intensifies other forms of discrimination, it becomes clear that there can be no real progress in promoting gender and racial diversity and opportunity without also addressing the problem of age bias. Business leaders are also making the case that age-diverse teams can improve engagement, help businesses connect with a growing longevity economy, and promote business stability and intergenerational knowledge transfer.

Moreover, employees themselves prefer working in a multigenerational environment. AARP research shows that older workers value the creativity their younger colleagues bring to the work environment, while younger workers value their older colleagues for their skill as teachers and for making the workplace more productive. An increasingly age-diverse workforce also presents a powerful new opportunity for organizations to leverage the benefits of mentoring. The AARP study found that mentorship helps improve employee soft skills, career-related knowledge, and other job skills. Employees who have had a mentor are more likely to become mentors themselves, creating a virtuous cycle that can benefit industries and organizations over several decades.

As thought leaders speaking at the global summit highlighted, the multigenerational workforce is transforming business – and the organizations
that adapt to this new reality the fastest will gain an advantage over their competitors.

Find more details on the latest employment data in the May Employment Data Digest, PPI's monthly review of job trends for those ages 55 and over. Find more data to drive policy solutions, and information on skills, jobs, and occupations for the 50+.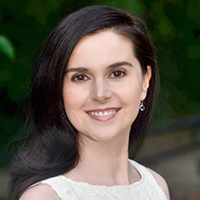 Jen Schramm is a senior strategic policy advisor at the AARP Public Policy Institute. Her areas of expertise include employment trends, policy challenges and opportunities related to workers and jobseekers ages 50 and above, and skills and credentialing for mid- and late-career workers.