The $92,378 Question: How High Can the Cost of Long-Term Services and Supports Go?
By Jean Accius, May 27, 2016 12:55 PM
Alvin and Sharon lived in Chicago and were frugal people who worked hard all their lives. This fiscal dedication allowed them to live on their two monthly Social Security checks, his modest pension and some modest investments.

Alvin and Sharon were able to pay their bills and enjoy simple luxuries — that is, until the out-of-pocket expenses of long-term care for Alvin began to drain what they worked a lifetime to save. In the process of searching for services and supports, Sharon learned that neither Medicare nor her private health insurance covered long-term services and supports (LTSS). Sharon quickly learned that Medicaid would be her only option but that they would have to spend down their life savings to qualify.

Alvin and Sharon's story is not an isolated incident. In fact, this is the new normal for countless individuals and families, as a just-released report from Genworth shows. The rising cost for services and supports needed by people who need assistance with basic life functions or activities is outpacing their ability to pay. Individuals and their families are often surprised to learn that the cost of long-term services and supports is not covered by private health insurance or Medicare. Ultimately, many individuals resort to exhausting their resources just to qualify for Medicaid.

According to the U.S. Census Bureau, in 2014 (the most recent year for which data were available) the median household income for a person age 65-plus was $36,895. The cost of long-term services and supports is one of the biggest threats to retirement security. In fact, one survey found that 59 percent of respondents were worried about not having enough money for retirement. There is also strong evidence that the majority of people are not prepared for LTSS, and even more do not understand the financial implications.

According to the Genworth report, the typical annual cost for a private room in a nursing facility runs about $92,378, or $7,700 a month. The base price for assisted living is $43,539. While home care is generally less expensive than nursing home care, it can still take a big toll on household finances. For 44 hours a week of support from a home care aide, which does have the added benefit of helping people remain in their homes and communities, the annual cost adds up to $46,332.

Digging below these national averages, which can blur the picture, is all the more eye opening. In short, the data underscore that where you live really does matter; in fact, there is great variation across the states. In some states, the cost may be up to 20 percent higher than the national average. For example, the cost of a private room in a nursing facility was higher in 14 states. Meanwhile, home care costs were higher in eight states. Here's a look at some of the states where the cost for LTSS hits residents the hardest: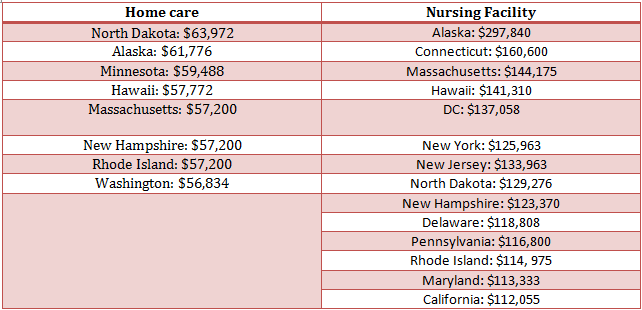 As the population ages, the demand and cost of LTSS will rise rapidly. Consequently, few people can accumulate sufficient savings, even over a lifetime, to cover the cost of LTSS. According to the 2014 AARP State Scorecard, "when the cost of such care far exceeds families' ability to pay it, more people will face spending down their life savings and ultimately qualify for Medicaid."

If these issues go unaddressed, the number of people in Alvin and Sharon's situation will only multiply in the coming years. We need to pick up the pace in sparking innovative solutions to reduce the anxiety that many individuals and their families face when trying to figure out how to best pay for long-term services and supports.




Jean Accius is vice president of livable communities and long-term services and supports for the AARP Public Policy Institute. He works on Medicaid and long-term care issues.